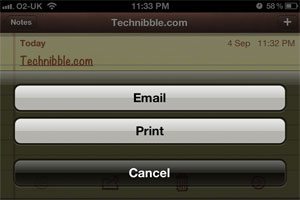 I have had few clients have asked me about how to print from their iPads and iPhones because certain applications such as Notes and Mail have had a print button available since iOS 4.2.1. The problem is unless you have a printer with a feature called "AirPrint", you cannot print from the iOS devices. That was until some smart coders created a free application called "AirPrint Installer" that will allow any USB printer to become an AirPrint printer.

In order for this to work you need the following:
iTunes 10.1 or above installed on the system
The USB printer must be shared on the local PC
The iOS device and the printer are on the same network
Make sure you have administrative rights on the computer as this will be installing a service
To Install:
Download the attachment on THIS forum post
Unzip the file, right click on the file "AirPrint_Installer.exe" and choose "Run as Administrator"
After the executable finishes installing, run one of the registry files "AirPrint iOS 5 Fix – ##Bit.reg" choosing the appropriate system architecture (32bit or 64 bit). Do not run both
Go back to "AirPrint_Installer.exe" and make sure "Service Startup" is set to "Auto" and click "start
Restart the computer
Please keep in mind that this application is a hack made by a member of the MacRumors.com forum so it has little to no support and could break in a future iOS update. If you are looking for something more solid to recommend to your clients, checkout FingerPrint which is a more polished paid product.