Most of us have heard of UBCD4Win which gives you a Windows like interface on a boot CD. In fact, I have used it in a few of my tutorials here on Technibble. UBCD4Win is great but what if you need to do some more low level work such as testing the RAM, doing a low level format or testing the condition of a hard drive? This is Where Ultimate Boot CD (dos version) comes in.
UBCD assembles over 100 PC hardware diagnosis tools into one bootable CD. It boots up very quickly (about 2 seconds on my machine) and provides a menu to many DOS based diagnostic tools such as:

CPU Tests
Memory Tests
Peripherals Tools
CPU Information
System Information
Benchmark Tools
BIOS Tools
Hard Disk Installation Tools
Hard Disk Diagnostic Tools
Hard Disk Device Management Tools
Hard Disk Wiping Tools
Hard Disk Cloning Tools
Hard Disk Low-Level Editing Tools
Partition Tools
Boot Managers
File Tools
NTFS Tools
Antivirus/Malware Tools
Network Tools
DOS Boot Disks
Linux Boot Disks
A full list of the applications it contains can be found here. This application makes a great partner for UBCD4Win and is a must in any technicians kit.
Screenshots: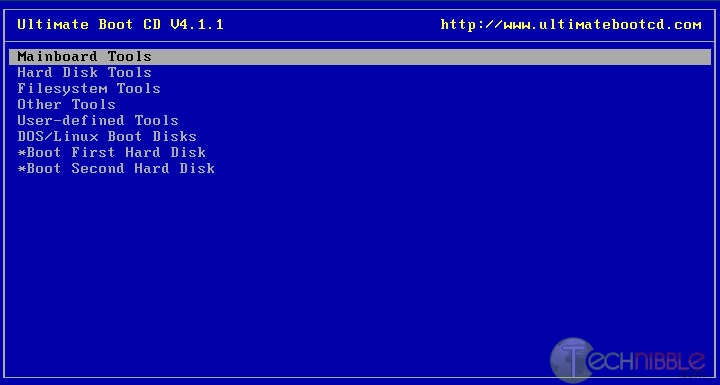 Downloads:
Download from Official Site – 115mb
More Information