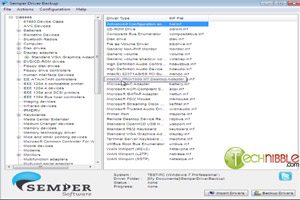 All Techs know what a headache tracking down all the correct device drivers can be when reinstalling an operating system. Since every independent device from the hard drive to a USB web cam needs a current drive in order to operate, backing up proper drivers for your devices becomes an essential step during a system upgrade or reformat and can save the technician a lot of time. Enter the Semper Driver Backup for Windows based machines.

With one click, the Semper Driver Backup tool will run through a system and copy every current driver to a location of your choice, making it easy to move the drivers onto a flash drive or into web storage for future access. This tool is also handy for installing Windows and peripherals on identical machines. Simply backup the drivers once and use them again and again. Semper Driver Backup creates an import script in your save folder that makes restoring drivers fast and easy. Semper Driver Backup is free to use and supports Windows XP, 7 and Vista.
While the Driver backup tool is free to use, Semper does offer some other paid software tools that may be useful while on the job. Be sure to check out their Continuity Suite and Backup solutions.
"Semper Driver Backup creates a backup log which serves two purposes, firstly to document activities and secondly to provide an import script for later use. It is ideal for use when Microsoft's Sysprep is combined with an imaging and deployment solution like e.g. Semper Continuity Suite."
Screenshots
Downloads