SafeMSI.exe is a tiny, portable, freeware application designed to let you uninstall programs in safe mode. When the computer is in safe mode, the Windows Installer service isn't started so most programs can't be uninstalled. Since technicians do a lot of work in safe mode and being unable to uninstall is a huge bother. It is also not possible to start the service manually, an error message will come up saying "Could not start the Windows Installer service on Local Computer. Error 1084: This service cannot be started in Safe Mode". This tool will do a registry tweak so that Windows Installer is made a safe service and it will launch the Windows Installer service. The tool is meant to be used after you are already in safe mode, it is a tiny .exe that just needs to be double-clicked or run and it runs very quickly.

The website mentions that the tool is compatible with Windows NT, 2000, XP and Server 2000. Although it doesn't mention it, it is also compatible with newer versions including Windows 7.
Screenshots: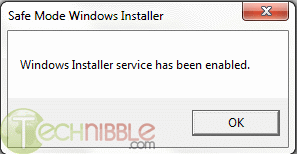 Downloads:
Download from Official Site – 11 KB
Special thanks to Morrison5891 for recommending this one.