Rizone Complete Internet Repair is a small, freeware and portable application designed to repair common internet connection issues. A multitude of problems can prevent a computer from accessing the internet such as a virus/adware attack, an incorrect firewall rule or even a legitimate antivirus product that didn't install or uninstall correctly. Rizone complete Internet Repair attempts to repair everything internet related on a Windows system and will do the following tasks:

Reset Internet Protocall (TCP/IP)
Repair Winsock (Reset Catalog)
Renew Internet Connections
Flush DNS Resolver Cache
Repair Internet Explorer 8.0.7600
Clear Windows Update History
Repair Windows / Automatic Updates
Repair SSL / HTTPS / Cryptography
Reset Windows Firewall Configuration
Restore the default hosts file
Repair Workgroup Computers view
Works on Windows XP, Windows 2003, Windows Vista, Windows 2008 and Windows 7.
Note: Due to the nature of this application (editing internet settings and such), a very small amount of antivirus products detect this application as malicious. This is a false positive. [VirusTotal.com Results]
Screenshots: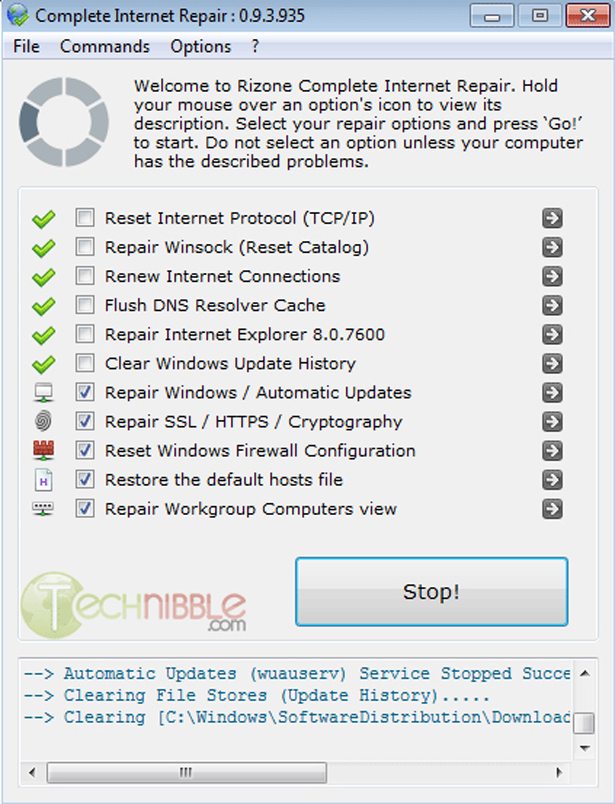 Downloads:
Download from Official Site – 441 KB