Most software is easy enough to install. You just open the setup file, press next, next, next, finish and your done. However, what if you want to install software on hundreds of computers? or multiple applications on a single computer? Computer Technicians frequently encounter these situations and write their own scripts to automatically install the software by making using special switches.
However, its hard to find out what those special switches actually are, this is where Universal Silent Switch Finder comes in.
Universal Silent Switch Finder is a small, standalone application designed to find out what switches can be used on a certain installer. From there, you can create your own .BAT files to automate the install process.


In the screenshot below, I used Amic Email Backup's setup file and it showed me the following switches which could be used.
"AmicEmailBackupSetup.exe" /VERYSILENT /SUPPRESSMSGBOXES /NORESTART /SP-
If I create a shortcut and set the above line as the Target, it will install the application without me ever seeing the installer. For those of you who make use of scripting applications like AutoIT to help you automate some of your tasks, you can see how useful this application can be.
Note: This seems to only work on programs that use a standard installer, unlike something like Skype that has its own special installer.
Screenshots: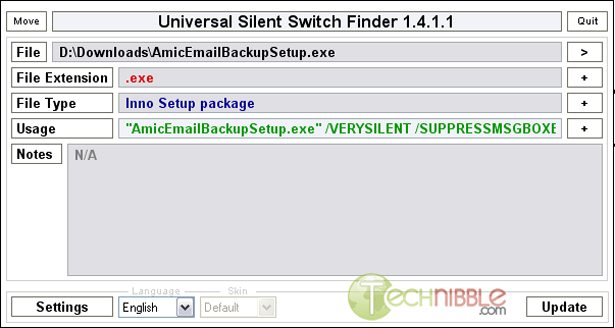 Downloads:
More Information