SmitFraudFix is a free, stand alone utility designed to remove resilient hijack malware. There are many types of malware out there that your standard antivirus and antispyware products cannot remove because its files are in use or as soon as one of the malware files is deleted, another part recreates it.
I personally use this tool a lot when clients computers are infected with those fake antiviruses which are hard to remove (eg. VirusBlast, AntiSpyCheck, TitanShield Antispyware, WinAntiSpyPro etc). This tool is essential for any technician doing virus removal work. For a list of what it removes, read on.

This tool removes Desktop Hijack malware:
AdwarePunisher, AdwareSheriff, AlphaCleaner, AntiSpyCheck, Antispyware Soldier, AntiVermeans, AntiVermins, AntiVerminser, AntiVirGear, AntivirusGolden, AVGold, Awola, BraveSentry, IE Defender, MalwareCrush, MalwareWipe, MalwareWiped, MalwaresWipeds, MalwareWipePro, MalwareWiper, PestCapture, PestTrap, PSGuard, quicknavigate.com, Registry Cleaner, Security iGuard, Smitfraud, SpyAxe, SpyCrush, SpyDown, SpyFalcon, SpyGuard, SpyHeal, SpyHeals, SpyLocked, SpyMarshal, SpySheriff, SpySoldier, Spyware Vanisher, Spyware Soft Stop, SpywareLocked, SpywareQuake, SpywareKnight, SpywareRemover, SpywareSheriff, SpywareStrike, Startsearches.net, TitanShield Antispyware, Trust Cleaner, UpdateSearches.com, Virtual Maid, Virus Heat, Virus Protect, Virus Protect Pro, VirusBlast, VirusBurst, VirusRay, Win32.puper, WinHound, Brain Codec, ChristmasPorn, DirectAccess, DirectVideo, EliteCodec, eMedia Codec, EZVideo, FreeVideo, Gold Codec, HQ Codec, iCodecPack, IECodec, iMediaCodec, Image ActiveX Object, Image Add-on, IntCodec, iVideoCodec, JPEG Encoder, Key Generator, LookForPorn, Media-Codec, MediaCodec, MMediaCodec, MovieCommander, MPCODEC, My Pass Generator, NetProject, Online Image Add-on, Online Video Add-on, PCODEC, Perfect Codec, PowerCodec, PornPass Manager, PornMag Pass, PrivateVideo, QualityCodec, Silver Codec, SearchPorn, SiteEntry, SiteTicket, SoftCodec, strCodec, Super Codec, TrueCodec, VideoAccess, VideoBox, VidCodecs, Video Access ActiveX Object, Video ActiveX Object, Video Add-on, VideoCompressionCodec, VideoKeyCodec, VideosCodec, WinAntiSpyPro, WinMediaCodec, X Password Generator, X Password Manager, ZipCodec..
… and many others since new malware is often one of these with a new name like "WinAntivirus 2008″.
It is pretty straightforward to use, but if you need usage instructions you can read them here.
Screenshots: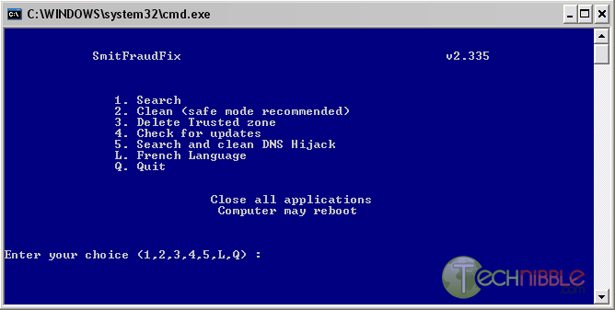 Downloads: