This one isn't a software utility, this is is an actual physical tool. I wouldn't usually have a physical product for the Repair Tool of the Week, but this tool is just so useful. It is a device with a SATA and IDE connector (both 3.5″ and 2.5″) on 1 end and USB on the other essentially turning any hard drive into an external USB hard drive.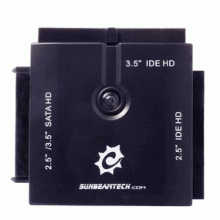 I brought a one similar to the one to the left a few day ago and I have already used it many times. Its great not having to pull apart your test machine to hook up a clients hard drive. Just plug the hard drive into this device, the computer will detect a removable hard drive and assign it a drive letter.
A user on our forums named volatile talks about his converter:
These little devices are quite versatile. The primary reason I love these things is because they allow me to back up any sensitive or important information before I start doing any kind of HD work, preventing headaches that can happen with data loss. I can also easily image drives, scan for viruses, and fix disk and OS errors when it is impossible to too boot or access the drive from the host computer. This is, of course, assuming your drive is operable. Other than my screw driver, this is probably the most used piece of equipment in my toolbox.
To buy them:
Xoxide.com
is selling them for $24.99 and ships to USA and Canada