From the people that brought us CCleaner and Defraggler. Comes another file product called Recuva Portable.
Recuva Portable (pronounced "recover") is a freeware file recovery tool that allows you to recover deleted files from hard drives, flash/USB drives, MP3 players and more. Particually those that you have sent to the Recycle Bin and then emptied.
Recuva is not unknown to many of the technicians on the Technibble forums as it gets mentioned every now and then. Its just handy that there is now a portable version of it that we can put on our USB drives for onsite work.

Screenshots: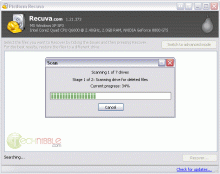 Downloads:
Download from Official Site – 846kb
More Information