Offline NT Password & Registry Editor is a freeware utility that allows you to change or blank the password of any user that has a valid account on a local NT/2000/XP/2003/Server 2008/Vista 32 & 64bit system. You do not need to know the old password to set a new one which makes this ideal for use with clients who have forgotten their password or were locked out by someone else. Unlocking locked or disabled accounts is also supported.
This tool comes in the form as a bootable CD ISO or Floppy disk ISO but can also be made to boot from a USB drive. The application is Linux based and it asks you questions about which drive and Windows install you would like to work with. Most questions can be answered just by pressing Enter since the best option is already chosen.
Warning: If used on user accounts that make use of EFS encrypted files, all encrypted files will become unreadable unless you remember the old password again. This is a serious technician tool and shouldn't be used by people who don't know what they are doing.
You should also read our "How to spot stolen hardware and why you should refuse to work on it" article before you place this application into your toolkit. Use this for only good and not evil.

Thanks to @dgcomputers for recommending this one.
Screenshots: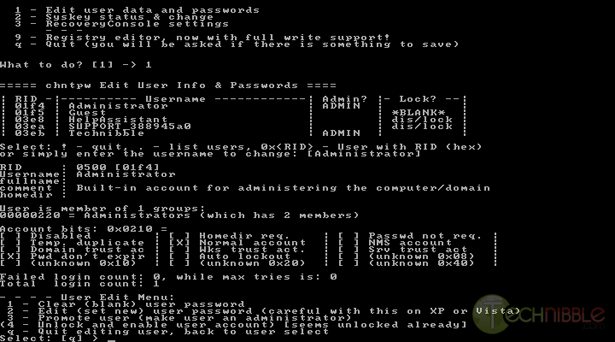 Downloads:
Download from Official Site – 3mb