LSP-Fix is a free tool designed to fix internet connections damaged by malware or buggy software. The Layered Service Provider (aka LSP) is a part of your operating system that your computer uses to connect to the internet. Some legitimate software (such as firewalls) and illegitimate software (such as malware/adware/spyware) place files in this location and if they become buggy or removed incorrectly, you will no longer be able to connect to the internet. LSP-Fix will show you the files placed in this zone and will suggest which ones need to be removed to gain internet access again.

I have personally used this tool many times on clients computers. The two most recent issues was one client had installed Zonealarm Firewall which didn't install properly thus placing a "bad" file in the LSP. The other client had the adware "New.net" installed and used adware removal software to remove it. However, it wasn't removed correctly leaving a damaged file in the LSP.
In both cases, their internet connections were crippled and LSPFix fixed the issue.
Screenshot: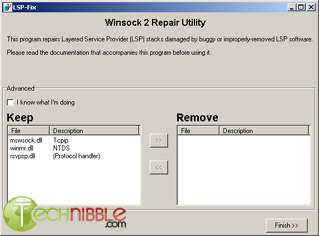 Downloads: