Hitman Pro is a freeware piece of software that controls both an inbuilt antivirus and a handful of other popular antivirus and anti-malware products such as Spybot, Ad-Aware, NOD32 etc..
After installing Hitman Pro and running it, it downloads the latest versions of various antivirus and anti-malware products, installs them, updates them to the latest definitions and starts scanning. Its the ultimate set-and-forget tool for complete security scanning. However, due to the time it takes to scan with all the different antimalware packages and the need for a broadband connection to download all the updates, its recommend that you use this application in your workshop only.
Hitman Pro can use the following software to scan for viruses and malware:

Prevx CSI Free
Trend Micro CWShredder
Lavasoft Ad-Aware SE
Spybot – Search and Destroy
Webroot Spy Sweeper
Ewido AntiSpyware Micro
PC Tools Spyware Doctor
Sunbelt CounterSpy
NOD32 Antivirus
Trend Micro Sysclean
McAfee VirusScan
It also has a few other interesting options such as the ability to lower the access that certain programs (IE, Outlook, Firefox, MSN Messenger) have to your operating system and thus helps protect your computer.
Screenshots: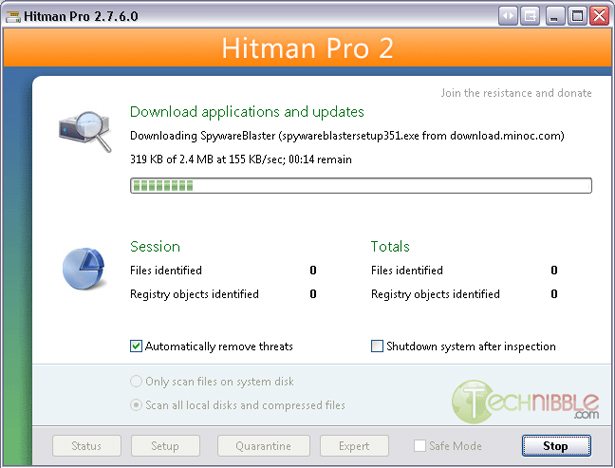 Downloads: