DriveImage XML is a free, stand alone application for making a complete backup image of any logical drive or partition, allowing you to backup/restore an entire operating system.
The application also includes an image explorer allowing you to view the files inside the backup file created and extract individual files (Im sure plenty of us have left a file behind at some point).
A really neat feature about this backup imaging tool is that it can use volume locking or shadow locking to create backups from within Windows, without the need to reboot. DriveImage XML also stores your data in .dat files using the XML format which allows you to use them in 3rd part applications. Works on Windows XP, 2003 and Vista.

Screenshot: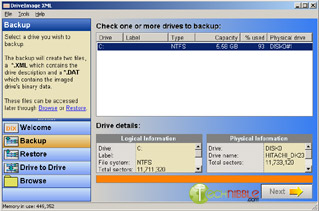 Downloads: