ATF Cleaner is a free stand-alone utility that cleans up any temporary files that a computer may collect. This includes the Windows temp folder, Current User temp folder, All users temp folder, cookies, Temporary Internet Files, History, Prefetch, Java Cache & Recycle Bin.
It can also remove browser specific temporary files (Opera and Firefox) such as Cache, Cookies, History, Download History, Saved form information &, Saved passwords.
This is a tool should be run regularly by home users and is especially useful to run before a virus scan to prevent it getting stuck for a long time on temporary files.

You can also catch a Geeksquad Agent using this tool in the video "Geeksquad Agent Caught Stealing Porn from a Customers Computer" at around the 2:25m mark.
Screenshot: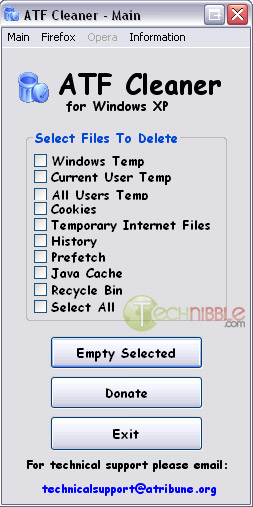 Downloads:
Download from Official Site – 49.5kb