Anti-Malware toolkit is a free, portable application designed to bulk download the most recent versions of the tools we use for malware removal and put them in a designated directory (such as your USB thumb drive). Just tick the boxes of the software you want and press Download.
It has options to download the following software as the main malware removal applications:
SpywareBlaster, CCleaner, RogueRemover Free, SUPERAntiSpyware, Malwarebytes Anti-Malware, Spybot S&D, HijackThis
It also has the option to download the most recent definitions for Malwarebytes Anti-Malware and Spybot S&D. The software then has a "Recommended" section that gives you the option to download Firefox, Opera, Thunderbird, Avast, AntiVir, Comodo Firewall Pro and UPHClean.
It also provides the option to download a handful of common repair utilities such as Dial-a-fix, JavaRa, Autoruns, Process Explorer, Unlocker, LSPFix and Windows Installer Cleanup.
This is a handy tool to keep the installers on your USB Drive up to date.

Screenshots: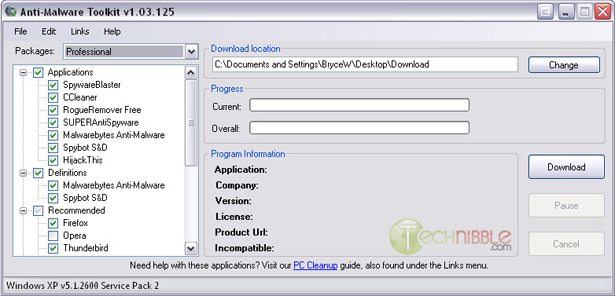 Downloads:
Download from Official Site (Portable .zip) – 60kb
Download from Official Site (Installer .exe)
Special thanks to Steve for recommending this one.