For this weeks repair tool of the week I am going to be mentioning two applications that compliment each other and manage the attachments in the email application "Outlook".

OLK Finder
OLK Finder is a small, portable and freeware utility that lets you find the temporary folder where Outlook puts its email attachments. You see, when you open an attachment that is considered safe, Outlook places these attachments in a sub directory under your Temporary Internet Files directory as an extra precaution. The advantage of using this tool is when you or your client accidentally delete an email attachment by mistake, the attachment can often be retrieved from this folder.
OutlookAttachView
Outlook Attach View is a small, portable and freeware application designed to find and list all the emails in Outlook that have an attachment. You can then easily select one or more attachments and export all of them to a folder. You can also sort the attachments by size and find the ones which are taking up the most space in the Outlook database. It can also provide a little bit of information about the email that the attachment came with such as who it was from, the subject and the date it was received. Its a great little tool for cleaning up an Outlook database.
Thanks to the forum member AtYourService for recommending these.
Screenshots: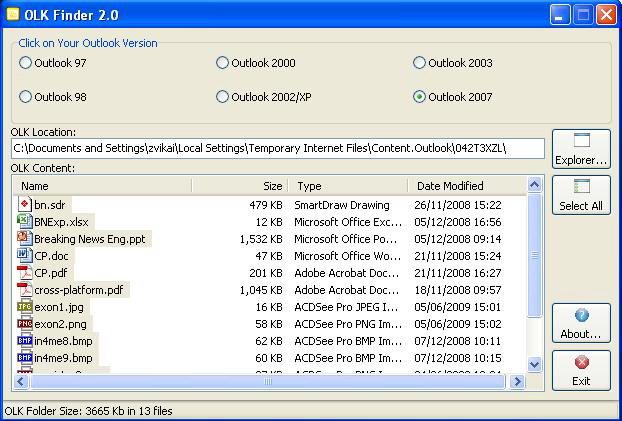 Downloads:
Download OLK Finder from Softpedia – 565kb
Download OutlookAttachView from Official Site – 79.5kb