LAN Speed test is a small, portable application designed to quickly and accurately test LAN speeds. There are two versions, version 1.1 is free for any type of use where version 2.0 is $5 per commercial license but it can be used on unlimited computers. The older v1.1 is slower and has less features, but to just test LAN speed it is just as good as v2.0.
The way it works is that it writes a fairly large file, the default is 100mb but you can choose, to a system across the network. It then clears the windows file cache to keep read times from being skewed too high, reads the file back, clears the cache again, deletes the file, and displays the results.
The application is very portable requiring no install and it doesn't change the registry. Version 1.1 works on Windows 98SE and up and version 2.0 works on Windows 2000 and up.
If you need the features in v2.0, $5 is a very reasonable price. Extra features include:
Very Fast! Most tests are less than 1 minute
New window that displays progress bar and allows user to cancel at any time
New Open/Save option to .csv file
Individual profiles automatically saved to .ini file to remember all settings
Selectable Speed Measurements
Command Line Mode (Allows network administrators to start the test from the client's workstation and view the automatically generated .csv file from anywhere on the network)
Screenshots: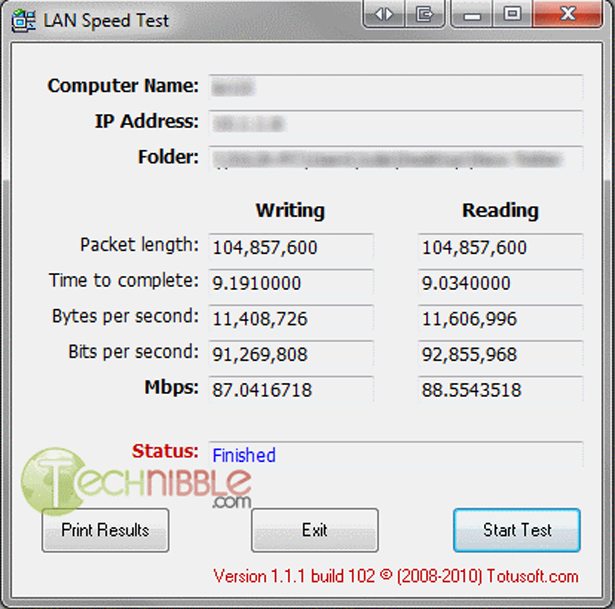 Downloads:
Download from Official Site – 58.5kb (v1.1), 357kb (v2.0)
More Information