The title pretty much says it all. This .BAT file will kill all currently running apps on a system that the user started with the exception of a few locked Windows processes and some antivirus products. This comes in handy when you are working on a system that has too many processes running and thus slowing it down; often to the point where its difficult to do any work on it.
Being a BAT file, this script is obviously highly customizable. It works on a "if the process is not in this list, then kill it" system; so you can add processes to the list that you do not to be killed such as the menu for your USB drive applications or Firefox.
This works on XP and Vista. For information on how to add processes to it, check out the official page.
Screenshots: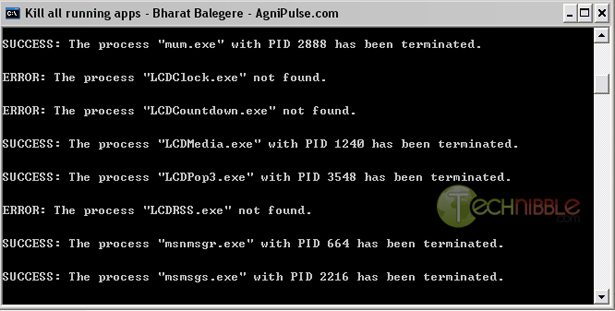 Downloads:
Download from Technibble (right click, save as) – 4kb
Download from Official Site – 4kb
Special thanks to the forum member Methical for recommending this one.