The default power settings for Windows is to have the computer go to sleep after about 15-30 minutes of inactivity (such as no keyboard input or mouse movement). This is great for the client because it saves power but not so great for a technician who is working on the computer.
Insomnia is a small, freeware and portable application designed to prevent the computer from going to sleep. As long as the Insomnia window is open, the computer wont go to sleep. This is great for a technician who is running malware or diagnosis scans on a computer which can potentially take hours.
If you are a technician who makes use of .BAT file or AutoIT scripting, this would be a nice addition to your script to keep the computers awake while your script does its task.

Screenshots: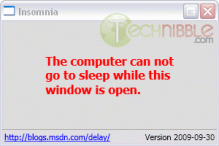 Downloads:
Download from the Coders Site – 140kb
Special thanks to our forum member iisjman07 for recommending this one.