HashTab is a small, free, Windows shell extension that adds a tab called "File Hashes" to the Windows Explorer file properties (there is also a Mac version). This tab will allow you to see the hash information of a file.
So why should you care about the hash information of a file? Hashes, which appear to be a long string of numbers and letters are designed to verify the integrity of a file. The creator or host of a file will often provide the Hash of a file and once you have downloaded it, you can view the hash of the file on your own computer and compare them. If they don't match there may have been some sort of corruption during the download.
The chances of a file becoming corrupted during download increases as the file becomes larger. So, if you were downloading something like a 600mb Linux ISO, you will definitely want to check its Hash.
The other use of Hashes is for security reasons. Lets say that there is a download link of a certain application on a popular site. This application is so popular that the creator has been forced to host the file on various mirrors to save on bandwidth. The problem is, how would you know if one of those mirrors has been compromised and that the file hasn't been altered? You would compare the hash provided on the site to the hash of the file that you downloaded.
Hashtab makes that task easy. In fact, I have provided the MD5 Hash of the Hashtab setup file so you can check it yourself. To check it, right click on the file once you have downloaded it, goto "Properties" and then the "File Hashes" tab. Copy and paste the MD5 hash provided below into the application and it will compare them.

Screenshots: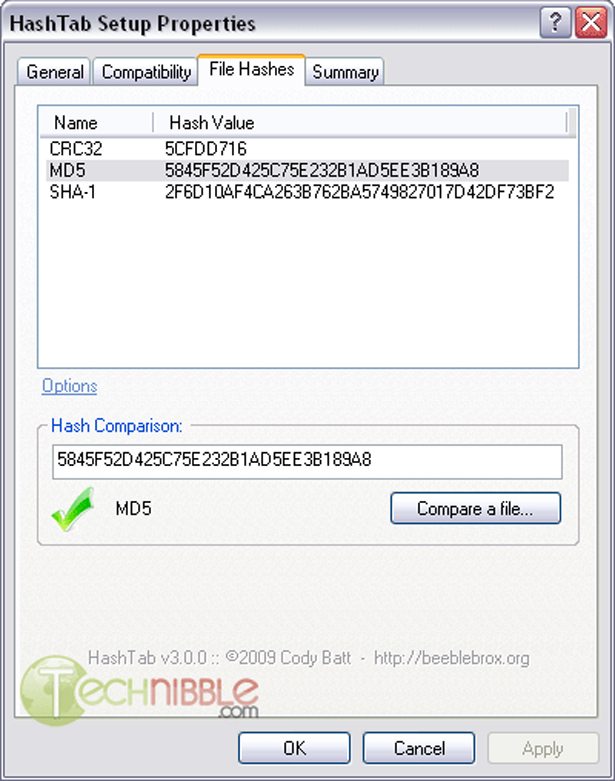 Downloads:
Special thanks to the Technibble forum member AtYourService for recommending this one.