".NET Framework Cleanup Utility" is a small, portable and freeware application designed to remove selected versions of the .NET Framework from a computer. It is intended to be used when the install, uninstall, repair or patching of the .NET Framework will not work correctly.
When this cleanup tool is run, it will remove the files, directories, registry keys and Add/Remove Programs entries that make up the .NET Framework.
This application has some nice features such as allowing you to choose which version of .NET Framework you want to remove. It also has a silent/unattended mode which I am sure the Technibble scripters will enjoy. Be sure to read the readme.txt file as it contains some handy usage information plus the download links for the .NET Framework installers.

Screenshots: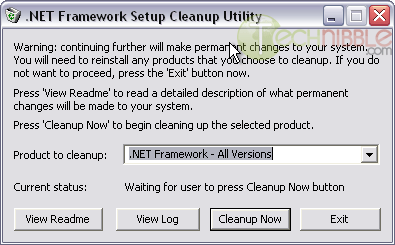 Downloads:
Download from Official Site – 260kb