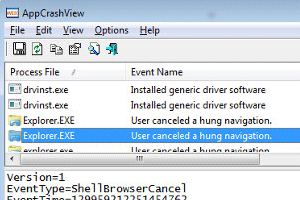 There are times when all you want is a simple tool that will get the job done. If you are a system engineer, you will no doubt want to be able to control the applications you run on your network. That is why a simple but complete tool like AppCrashView will make a good addition to your arsenal of system monitoring programs.

If you are running Windows Vista, Windows 7 or Windows server 2008, the AppCrashView is worth looking into (there are plans to support more Windows operating system versions). It will allow you to quickly get an overview of applications that have experienced exceptions. This is a great way to troubleshoot conflicts and pinpoint the problem. In order not to reinvent the wheel, AppCrashview extract information from the Windows Error Reporting (WER) files.
For those who require further processing of the data collected by the AppCrashView program, it is possible to select a single or multiple error data from the AppCrashView upper pane and send it to a Comma Separated Value (CSV) file. That will allow further data manipulation through a spreadsheet program like excel.
Ease of use has been designed into the AppCrashView executable. You will get a list of crashed applications in the upper pane and clicking on one of them will reveal more details in the lower pane
The command line interface that comes with AppCrashView allows System Administrators to specify how the logs should be stored. For example, you can use /stab, /stext, /shtml and /sxml parameters to indicate the output file you want from the application.
AppCrashView is freely available in multiple international languages like French, German, Russian, Jananese and more. Like all freeware, the program is provided with no guarantee and no active support will be provided. However, it is possible to report bugs to the creator. Those who want to find a nice little no frills program to monitor application crashes will likely appreciate this little tool.
AppCrashView Homepage and Download