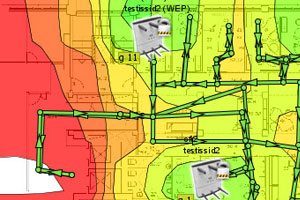 As PC repair techs, we're often called upon to troubleshoot issues such as Wi-Fi network issues, such as low signal, no connectivity, and so on. There are many many apps related to network testing, exploration, security analysis, and basic troubleshooting. Many of these are included in the Linux distro BackTrack, a favorite among those who work in penetration testing and network security infrastructure. However, in this article, I'd like to highlight two Wi-Fi testing and mapping apps for techs, both of which are freeware. They are invaluable for wireless network mapping, and should be included in every tech's toolkit. Depending on what you use in the field, laptop, netbook, tablet, or smart phone, and depending on the area you're analyzing, one or the other might be more useful. Both support 802.11a/b/g/n, as well.

HeatMapper requires a device running Windows, and only takes a minute to install. There are two mapping options. You can upload a floor plan image, a screen-shot of a geographical map of the area you're testing, or any other diagram that could be used as a floor plan. Alternatively, you can use the 'grid' option, which is basically a basic grid that you use to map your own 'floor plan' for network mapping. After you choose your option, you're shown all available networks, and you can click on the area, and start walking. As you continue walking around the area you're mapping, continue clicking at intervals to provide location coordinates to assist in accurate mapping.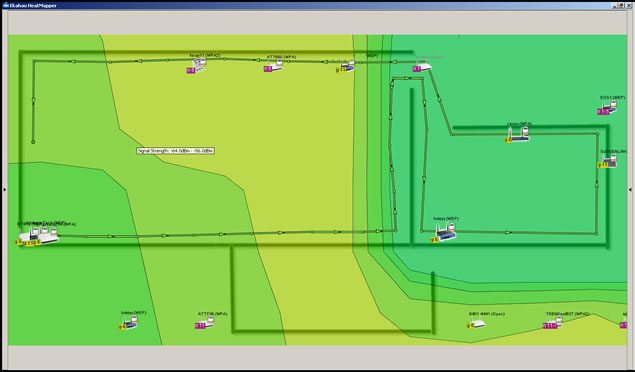 HeatMapper will show the Wi-Fi coverage, including all access points, their security settings, their channel, speed, and more. It should work with any built in network adapter, as well as external wireless adapters. I've found the speed with which it maps target areas to be exceedingly fast, compared with some other testing apps I've tried. It's very accurate at locating network access points, based only on signal strength and the coordinates you provide by clicking on the map or grid as you walk.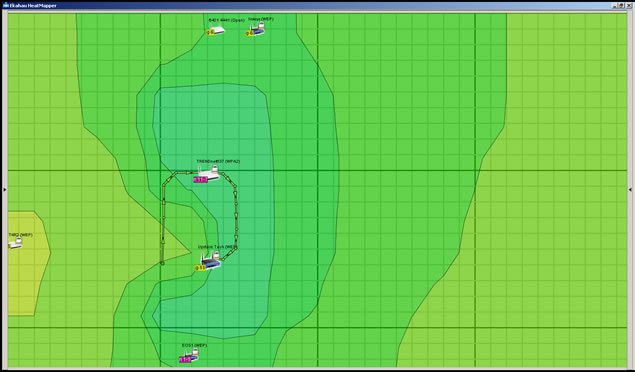 I should mention that this app limits your continuous site survey to 15 minutes, but it will probably be a rare occasion that you'll need to spend more than 15 minutes walking through your testing area. If you have more than one floor, you'll probably need to have a floor plan image for each floor. If you try to put all floors on one floor plan image, it's not likely to come out very well. Instead, the signal strength lines will probably end up skewed and out of alignment. At the end of each survey, you can take a screen-shot, and keep the image for reference in your results.
I found Meraki's WiFi Mapper very useful as well. It's a browser app, but it can also be used even when you're not connected to the internet. As a browser app, it will function on most tablets and some smart phones as well, and this is where it really shines. Google Map integration is included, which means you can pull up your location on a Google Map, and simply start clicking as you walk around, pausing as it tests.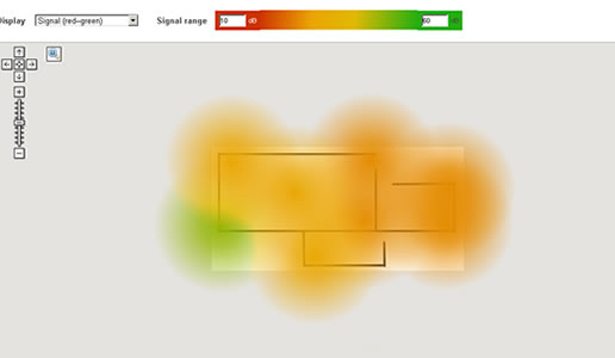 You'll notice it's not quite as speedy as HeatMapper, but what it lacks in speed is made up in other features. After signing up for an account, you can upload floor plans and use them as maps. Unlike HeatMapper, here you can upload a floor plan image with several floors on the same map, and use the same map during the whole survey. The interface is very easy to use, and I found the color coding feature has a very professional look to it, and it's easy to locate spots with very low signal.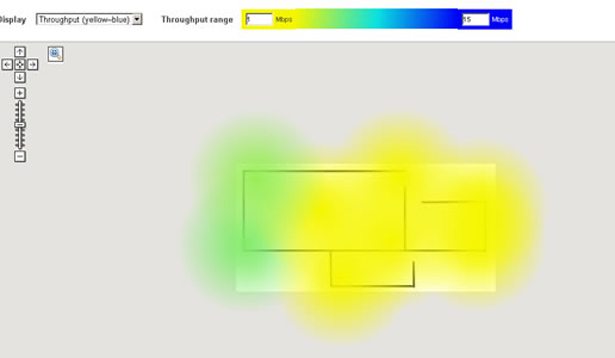 WiFi Mapper is only in the beta phase, which is very promising, considering what it currently offers. There doesn't seem to be any time limitation on the site survey, which also favors those who need a multi-story site survey. However, I do recommend that while you're walking around and clicking to provide coordinates, stop walking while it runs the test for the coordinates you just provided, to provide better accuracy. I'd recommend going to Meraki's site for WiFi Mapper, and over here for HeatMapper, just to check them out. Meanwhile, talk a walk around your office or business, and test your network coverage with whatever mobile browsing device you have handy.
Do you have a favorite Wi-Fi testing app you frequently use in your work? Leave a comment!