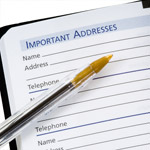 There are literally hundreds of thousands of books about marketing that are available on the shelves now days. Some of them target specific industries and others can be applied to just about any industry. Whether it is aimed at a specific niche or not, there are some tips that just about all of them have in common:
Always keep a database of your customers
Always keep in touch with your customers
It costs more to get a new client than it does to keep an existing one
It's easier to sell to people who already know you and trust you
All of the above are valuable tips and computer technicians can take advantage of these by creating newsletters and reminders to send to your clients.

Other industries make great use of newsletters and reminders. A Dentist will remind you that it is time for your half yearly checkup and mechanics often remind you its time for your cars service. You can create a computer checkup schedule every six months for a "cleanup and optimize" and remind your client of it, or you can take note of when their paid antivirus subscriptions are due to expire and send them a letter two weeks before.
However, the problem with reminders is you need an excuse to remind them of something. Newsletters on the other hand allow you to drum up business just about any time you want. I find mailing newsletters ever 2 to 4 weeks usually works best. Keep in mind that sending the newsletter out is only half the battle as you still need to get them to read it.
The key to making sure that it doesn't end up with the rest of the junk mail is to not make it look like a advertisement. You need to make it useful.
You can offer them tips that an average computer user can perform like giving them step by step instructions of how to install and use Firefox including the benefits of using it (safety, faster, tabbed browsing etc.)
You can also do a little "fear marketing" by educating them about the need for wireless network security or tell them about the latest virus on the prowl. This can often land you a job to secure their network and computer if they feel they are vulnerable. If they feel they get value from your newsletter they will begin looking forward to it.
Ok, so how do I get their details?
It is easy for a onsite computer technician to get their details since you should already their name, phone number and address if you are going onsite. While you are onsite, mention your newsletter in casual conversation ask them if they would like to receive it. It helps the signup rate if you have a sample with you to show them and tell them how it can be useful to them.
If you don't go onsite but have a store, you can have a fishbowl sitting on your counter for them to drop their business card in. To encourage signups, you can run a competition of some sort and pick out a business card at random for the winner.
So, if you haven't got a client database yet, get one. Most client management software and accounting packages have the ability to keep client records. I personally use Outlook because I can send emails to my clients and it has a "Mail Merge" option that allows me to print address labels for those I dont have an email address for.
If you have your clients contact information and don't have it in any sort of usable database, you are missing out on an opportunity to turn it into a potential goldmine.