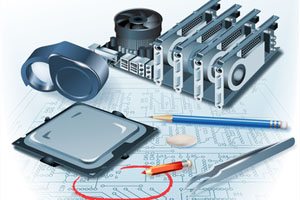 Whether you're just starting up in the technician industry or have been a tech for years, having reputable technician supply resources that are cost effective is one of the most important parts of managing your business. There are hundreds, if not thousands of retail stores and online merchants who offer cables, hardware, and other supplies at a variety of price ranges. How can you be sure you're getting the best prices and the best quality service from suppliers?
Avoid Consumer Retail Outlets for Basic Supplies
If you use ethernet cable on many service calls and installations, and buy the cable at consumer retail outlets, you could end up paying $1/foot per cable or more, depending on the outlet. I personally recommend Monoprice.com for cable supplies, as the quality is excellent, the shipping is fast, and the prices are a third the cost you would expect to pay in a consumer retail outlet, or even less, especially if you purchase in bulk. They also have some very decent prices on hardware and other accessories.
If you're looking for other supplies, and there's only one name you trust, that's great. However, narrowing your search for supplies down to just one merchant can limit your profit margins, especially as newer merchants bring their retail presence online for buyers. I recommend always being open to trying newer suppliers with genuine positive reviews. Try Amazon.com for technician supply resources. Many merchants have great products for very low prices, and you can sort through them by their seller rating. Newegg.com also has some good deals, especially during certain holiday times.
How do you know which products and merchants to trust? You can usually spot the paid reviews and the reviews that don't accurately represent the item shown, so just ignore those. There are also often reviews based on a misunderstanding of the tool itself, or abusive use of the tool. For instance, on an ethernet cable tool, some reviews complained that the blades on the handle were obtrusive and cut your hands while using the tool. However, the blades could be removed with a screwdriver in less than 30 seconds, and the problem is solved, as the product comes with a handy cable cutter that works better than a set of pliers with blades between them.
'But I Don't Have the Tools, Accessories, or Experience'
If you're just starting up and don't yet have the tools or connections or miscellaneous accessories for the job, don't give up just yet. An initial search for tools at retail outlets may only show the higher priced tools from prominent supply chains and brands. Given the cost of those tools, it may seem easier and less risky to keep buying supplies at retail outlets and just billing the customer for the cost of the supplies, as high as they are. However, if you were to search Amazon.com for the same tools, you'll come across a great many tools of the same quality for a much lower price. Be sure to check reviews and merchant rating, however, as you want to make sure you get the right tool, and one that is decent quality.
For miscellaneous accessories such as Cat5 plugs, connectors, or small hardware parts, be sure to read those reviews. Some connectors are exceedingly cheap, or require modification in the form of bending or breaking parts off in order to use them properly. You'll see similar quality in some of the lower price ranges as well, and that's something to watch out for. However, there are many merchants that are both reliable and trustworthy, and offer great products at prices you won't find in the consumer retail outlets.
It's often said that search engines are your best friend. Maybe your strength is in software or hardware repairs and installations, but you've never dealt with cables or wireless networking. Often, your time is well worth just doing a bit of research into these areas, and it will be cost effective in the end for you to do these jobs yourself rather than rely on consumer retail outlets to provide the supplies 'ready-made' for you. Not only will it impress the client that you can do everything yourself, along with your usual expertise, and the cost in fuel and supplies will be much less, but will probably vary depending on your previous tech supply resources.
Stay Open to New Merchants and Products
If you've been in the tech industry for years, maybe you have certain names you trust, and that's great. For instance, there are some names I simply will not recommend when it comes to laptops, desktops, or networking equipment. However, as I mentioned before, the internet is an ever changing landscape, with new vendors and high quality products being marketed on a daily basis, offering top quality tools for lower prices. Often, these merchants just want to get their product out into the market for reviews, and it's a great way to get top quality products for a lower price. That's why it's important to stay on top of the current offerings online and be open to newer vendors.
I recommend doing a search every once in a while for tools you use often on the job, and check out any new deals that may allow you to replace a current old tool with a lower cost high quality replacement. Create an email address just for technician tools and services, and subscribe to newsletters and services that often send out emails on tools, discounts, and new offers. Spend a little time each week going through them. Even if you don't find something right away that you need, you'll often come across things that you can recommend to your clients, and they'll appreciate hearing about it from you, and the fact that you showed personal interest in showing them they could get what they needed at a discount, even when it brought no business for your services.
Pass on the Discounts and Get More Business
Making sure you're being cost effective when it comes to tech supplies will go a long way towards streamlining your work process. Instead of dropping by the nearest retail store to get a cable for the next job and estimating how much you'll need, you can just carry a bulk supply of cable with you, and only use as much as you need, leaving a majority of surplus for your next job. The cost in tools is often negligible. When you pass those discounts back to your clients in the form of lower prices, you'll be much more likely to get repeat business and referral business than the technicians who rely on consumer outlets and pass the high prices on to their customers.