Today, businesses and schools are the only places where you will find powerful computers, the PC has become a perinant fixture in many homes and some even have more than one. In this article we will talk about setting up a computer repair store.

The Workplace
Your computer store can be in any number of locations. If you don't have much capital to start up the business or you are just a hobbyist, your workplace is most likely to be a spare bedroom or garage set aside in your home. For this article we will be focusing on setting up a workshop for a PC Repair business. However, much of the information in this article also applies to other types of PC related businesses.
The Location
There are quite a few considerations you should look at for selecting a location for your PC shop. First the area should be well lit, clean and dry. It should be located in an area so that it easy to transport whole computers and components in and out of the area. For example, an office space on the 4th floor of a building with no elevator would not be suitable.
Your work area should contain enough space for at least a workbench; a cabinet for spare parts; shelving for catalogs; books and other reference materials; space for test equipment and tools. You will also need to determine the amount of space you will need depending on the amount of spare parts you will keep in stock and the amount of computers you expect to be repairing at once; estimate for more than you currently need as the space required will most likely grow as you get more work.
When you are determining the location of your workspace you should also consider the concerns with electrical power. Your workspace should have enough power outlets and be located conveniently near your workbench and the power should be clean meaning that other appliances such as air conditioners, freezers, fridges etc.. should not be on the same electrical circuit you intend to do repair work on. The type of devices can cause electrical spikes which play havoc on computer equipment.
Organization
Always keep your workbench clean, it is annoying when you bring a computer to your workbench only to find there is nowhere to put it down. The best way to avoid unwanted workbench clutter is to avoid the temptation of putting tools down on the bench when you are not using the, even for a few minutes. A good tool caddy where you can easily drop tools in and take tools out will well with this.
To organize the computers you are working on such as who owns them, what the computer is and what is wrong with it, a whiteboard with a layout similar to the example below is a great asset.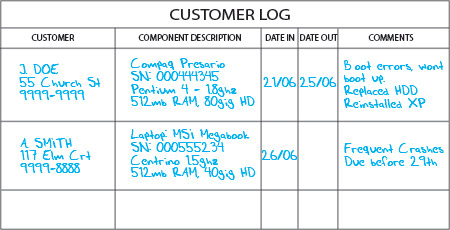 Whiteboard with Customer Details
Setting Up
You will need to determine the type of work area you need based on how much you want to get into PC repair. For example, if you are a hobbyist you may want to set up a room in your house permanently with minimal equipment and stock-on-hand and pay for stock as you need it. If you intend to start your own business then you should set up a permanent work area with a complete set of tools, equipment and stock which contains a bit of everything.