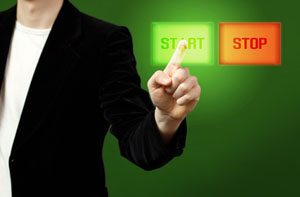 The amount of money you will need depends on whether you are going to jump into the deep end and make your new business your only source of income, or you are going to ease into it and work elsewhere while you build up your client base.

If your new computer business will be your only source of income then you need to work out how much money you need to take home per week to maintain your current lifestyle. Once you know that figure you need to times it by at least 26 which gives you 6 months to get up to the point where you take home what you need to maintain your current lifestyle. This is the minimum you should have for startup if the computer business will be your only source of income.
If you are currently working elsewhere part time it is much easier and safer to start a computer business. Even if your current job is 9 to 5, you can use this to your advantage and be one of the few technicians in your area that do after hour's work which is great for customers who also work 9 to 5 and cannot be at home during the day for a technician to repair it. I remember there was a technician on our forums who was doing this and had the slogan "We work when you don't". The main benefit of working part time at another job is that it gives you time to learn what sort of advertising works in your area without the fear of running out of money.
Regardless of whether you are starting out full time or part time, there are still some costs that apply to both startup types. Some of these costs are:
Getting setup legally – In most countries and states you can register the business yourself inexpensively through the government websites. However, there is just no replacing the knowledge of a local accountant who knows the laws in your country and state. For an accountant to set up your business you are looking at around $200-400 USD.
Stock – This can cost as much as you want it to. You can buy stock on an as needed basis when you first start out or you can buy one of everything that doesn't lose value too quickly like DVD-Burners, Power Supplies, Wireless Routers, Wireless USB Dongles, Cables, Cases, Keyboard/Mice and copies of Windows XP/Vista/7. Items like CPUs, Video Cards and Hard Drives should only be bought on an as needed basis if you are a new business since the value drops so quickly. $500 – $1000 USD
Tools – The absolute minimum amount of tools you should have is a small toolkit for computers (my first one was about $14 USD), a USB drive ($10 to $100 depending on size) and a CD wallet (about $2 to $10) loaded with free computer repair applications. However, it is ideal to have a complete kit with a laptop, blank CDs, thermal paste, various cables and a cable tester.
Business Cards – Your business card is often what your client bases their first impression of you on. It is representative of your business and this is why I strongly recommend that you business cards made professionally. To me, those tear off make-at-home cards just screams amateur or fly by night business. Of course, any business card is better than no business card but if you are really short on money, you could consider getting them professionally printed for free at a place like Vista Print (http://www.vistaprint.com) or get some free samples at Overnight Prints (http://www.overnightprints.com), but keep in mind they often have the URL of the maker on them. Professionally printed business cards will cost you around $120 – $300 USD depending on the amount you want printed and this often includes the print shop doing the design work for you.
Web Hosting – If you happen to have a website, do not host it on a free host. Most free hosts only allow for a lame domain name like yourbusinessname.freewebhost.com. Many of them are ad supported so as you are trying to sell your services, your competitor's ad is on your site too. With hosting companies like Hostgator that offer amazingly reliable services for $4.95 USD a month, its not something worth skimping on.
Advertising – Advertising is one of your most important costs after having your business setup legally and it's hardest to put a price on. You can have amazingly effective advertising that is free or expensive advertising that doesn't work at all. To give you a very rough figure, we'll base this figure off the best advertising that I used which was the local, free weekly newspaper which was around $70 USD per week.
In conclusion, it all depends whether you are going to quit your current job entirely or slowly make your way into it. Quitting entirely is good so you can focus 100% of you attention on the business, but you need enough finances to back you. Slowly making your way into it is the safest method but it can take more time.