Great!
But obviously you have a lot of questions, mainly, Am I Ready?
Well there is no easy way to answer that question, in the end it comes down to who you are, a little bit of luck, and preparation. I started my IT business with about 1000 dollars, five friends and no preparation, to be fair I was still living at home and had most of my expenses covered by my parents. Over the years my business has grown, probably in part to the incubator period and relative protection of that environment. Most of you will probably not be as lucky as I was, and to be honest, despite this advantage,  it was still no cake walk.

I think the questions you need to answer before taking the plunge can be divided into two general categories, business sense and emotional fortitude. In my opinion you really need to have a little bit of both. So whether you just had the idea yesterday or you're seriously considering leaving your job tomorrow, at the very least, make sure you ask yourself the following questions.
Do I Have Enough Money To Do This?
There are a lot of costs associated with running any business, the IT world is no exception. You need to factor in the costs of advertising, purchasing supplies, uniforms (maybe?), legal costs, the cost of setting up your workshop or car, not to mention your phone bill, utilities costs, business registration and rent/mortgage!
If you were previously working, chances are you have saved up a large sum of money, say maybe 10,000k AUD. Assuming you spend $500 dollars a week keeping yourself alive ( rent, phone, internet, utilities, food) you have 20 weeks before you run out of money.
This may seem like a lot, but it can disappear very quickly!
Lets assume for the moment that you take out an ad in the local paper for $500 dollars, you purchase  some basic supplies ( Ram, HDD, Motherboard, Testing Gear etc. ), perhaps $400 dollars. You also decide you want a shirt with your logo on it $50 dollars, and you visit a cheap lawyer who makes you some contracts and gives you some advice, $400 dollars. You decide to have a home office which costs about $500 dollars to convert after you replace the furniture, and make a usable workspace for fixing computers.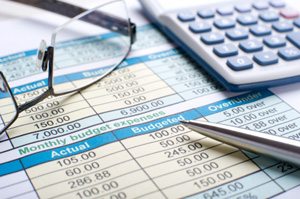 So where are we so far…. $500  + $400 + $50 + 500 = $1,450.00
So you've spent nearly 1.5k , down to $10,000-$1,450 = $8550.00 or just over 17 weeks, assuming nothing breaks like your car or your leg!
Now running a business comes with certain extra costs, for example insurance, perhaps a mobile EFTPOS machine, an accountant and much more!
For the sake of argument lets say you have 15 weeks of savings left once you buy everything you need to get your business going, including any services (such as a phone, insurance, and internet plan) covered for about 1 year.
So, assuming you don't need to spend any more money on advertising, or anything else you have 15 weeks to be making  over $500 dollars every week from your business.
Is that enough time?
Can You get that growth rate – Will that cost extra in Marketing ?
Can you sustain that level of work?
Will you even get that many customers?
Say you charge $80 dollars an hour and manage to bill $300 dollars of work in your first week! (Well done!) Chances are the people who called you this week are not going to be calling you next week, in fact to have a stable income of over $500 dollars a week, you may need a database of thousands of customers.
Am I trying to scare you? Well, a little – but better me than a debt collector!
It comes down to this, how long can you afford to build my customer base?
As I mentioned earlier the other quality you should have is emotional fortitude! Do you cope well under pressure?, say when a client yells at you for doing a bad job, demanding you pay him a refund ( it happens!), or when someone simply refuses to pay ( that happens too!) or when you get conned by a professional who absconds with a laptop and your self respect ( that happened to me! )
Can you cope with the uncertainty, not knowing when or from where your next pay check is coming ? Recently my business went for an entire month without a single new customer, and we've been running for over three years now. It happens to everybody, at some point it will happen to you. Can you cope with financial uncertainty? At the very least you may have to change your lifestyle to accommodate your change in income from week to week, this is especially important to remember when signing up for contracts. ( Do I REALLY need that new iPad with the 2GB/month data allowance?)
Another often overlooked but important area is the effect this uncertainty will have on others, particularly your family, Can your family cope with the emotional rollercoaster? At the end of the day, this is what it is like when you run your own business, you move from success to success, failure to failure, idea to idea so fast that it can sometimes be difficult to take anything in. Without a doubt if you are successful you will have to deal with long hours, unexpected problems and possibly difficult staff. Remember you're the boss now, it falls on you to fix the problems, not to mention bare the liability.
So by now you may be asking, So wait, why does anybody do this again?
Well for me that's simple, I love developing something bigger than myself, for me, honestly it's not about the money. It's about creating, sharing my ideas, improving and always learning, oh and I love being my own boss. But hey, that's my drive,  you have to find your own, maybe you want to take on Apple, maybe you want to challenge gender stereotypes, maybe you want to sleep in on weekends (not so good!) – Whatever it is you have to be sure it will drive you, drive you to persevere in the face of everything I've talked about – money, uncertainty, people telling you not to risk it, (that happens A LOT), stress, happy clients, bad clients and STRESS(again) So, What's your drive? Will it get you out of bed to deliver brochures, deal with headaches, make plans and above all, keep going?