Roguefix is a free, portable detection and removal script to clean computers with fake security warnings from a family of rogue software such as: Antivirus 2008, Antivirus 2009, AntiVirus Lab 2009, AntiSpyCheck, Security toolbar, IEAntiVirus, MSAntivirus, Spyware Preventer, Smart Antivirus 2009, VirusResponse Lab 2009, XP antivirus etc..
I tested Roguefix on my XP virtual machine by installing the two rogueware products "Antivirus Pro" and "Antivirus Protection" (ironically hard to catch when you are actually looking for them) and it removed them both with no problems. This is definitely a nice addition to run alongside Smitfraudfix and Combofix.

For a full list of what this can remove and usage instructions, visit their website here.
Screenshots: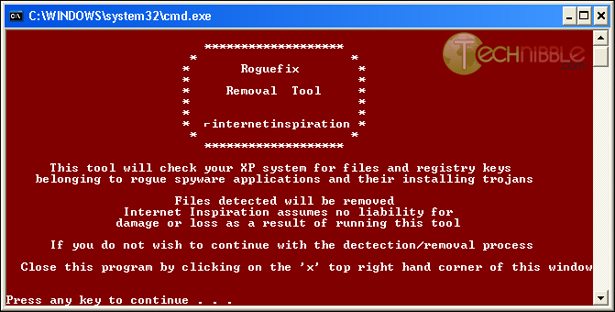 Downloads:
Download from Official Site (Right click, save as..) – 5.6mb