The PortableApps.com suite is to applications what our Computer Repair Utility Kit is to repair tools. The PortableApps.com suite is a collection of the portable versions of commonly used applications integrated into a easy to use right click menu. The applications that are included are:

Mozilla Firefox Portable – Web browser
Mozilla Thunderbird Portable – Email client
Mozilla Sunbird Portable- Calendar/Task
ClamWin Portable – Antivirus
Pidgin Portable – IM client (connects to MSN/ICQ/AOL/Yahoo and more)
KeePass Password Safe Portable – Password manager
Sudoku Portable – Game
Mines-Perfect Portable – Game
CoolPlayer+ Portable – Audio player
OpenOffice.org Portable – Office suite (word, spreadsheet, presentations, database, drawing)
There are 4 versions of the PortableApps suite with varying levels of applications included. For a comparison between the versions check out the Download from Official site link.
Screenshots: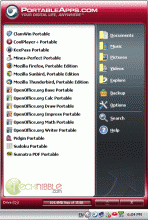 Downloads: