Dial-A-Fix is a handy user interface to perform tasks which are usually used when repairing computers after Spyware/Adware/Malware damage.

Dial-A-Fix allows you to:
Re-register Windows DLLs: Frequently used when Internet Explorer wont connect to secure websites.
Repair Active X Controls, Control Panel Applets, Direct X & Windows Media Player
Fix Windows Update: Frequently used after a virus attack destroys the ability to update your windows.
It also has a series of other handy tools such as:
Flush DNS
Flush Icons
Process Idle Tasks (used to clear ram)
Reinstall Automatic Update Service
Reinstall BITS
Reinstall Defrag
Reinstall Help and Support Service
Reinstall System Restore
Reinstall Windows Firewall
Reinstall WMI/WBEM
Repair/Reinstall IE
Repair Permissions
Reset Networking Interfaces
Reset Help and Support Service
Reset Time Service
Reset WMI/WBEM
SFC Purge (system file checker files)
SFC Scan
Screenshot: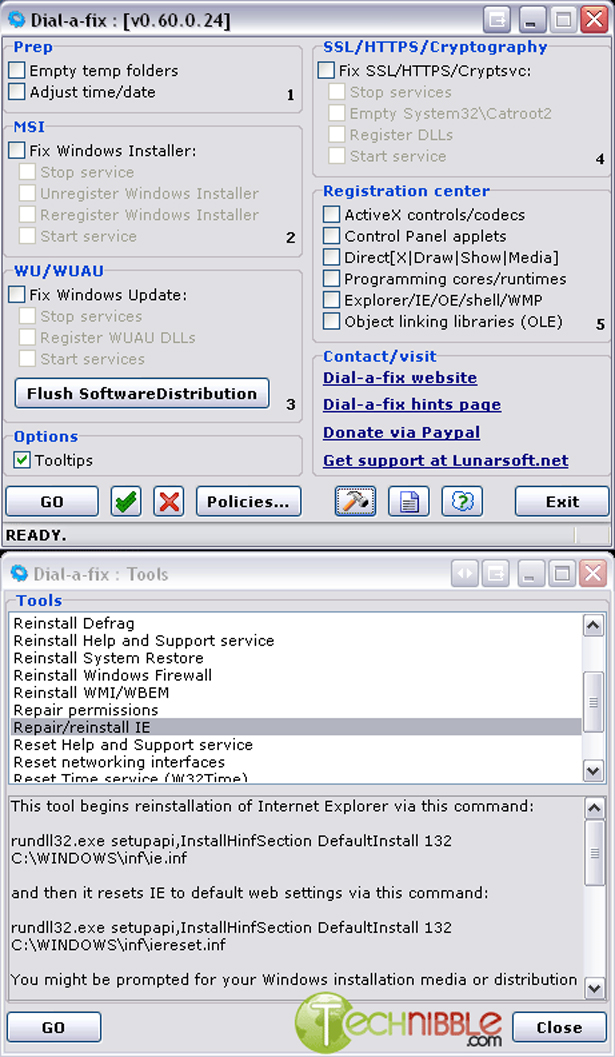 Downloads:
Official Site: http://djlizard.net/software/Dial-a-fix-v0.60.0.24.zip