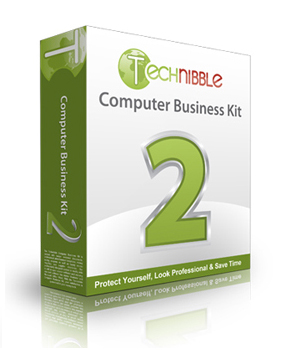 Protect Yourself, Look Professional & Save Time
Instantly Downloadable, Easy to Edit and with a Money Back Guarantee within 30 days
Over 30+ Ready-To-Use Legal & Business Templates
37 Marketing Templates
Lawyer Reviewed
About the Kit
The Business Kit contains with a series of checklists to help you make sure you do the job correctly every time and protect yourself. For example, if you follow our Backup checklist when backing up a clients data before a OS reinstall, you are less likely to forget about backing up certain data. To customize them, all you have to do is replace our sample logo and contact details with your own. If you paid a lawyer to draft similar documents it would cost you hundreds of dollars, if not thousands. With the Computer Business Kit, you can get started for $79.
What's Included
30+ Legal and Business Documents
37 Marketing Templates
List of Suppliers in the USA, UK, Canada and Australia
List of Computer Recyclers in the USA, UK, Canada and Australia
Discounts for many leading Computer Business Products (savings on these products can be greater than the cost of the Kit)
Contents List
During and After Work

Work Order
Engagement Form – Home Users
Engagement Form – Business Users
Backup Checklist
Reformat Checklist
Wireless & Internet Settings
Computer Pickup
Tune-Up Checklist

Marketing

Marketing Analysis
Maintenance Contract Sales Letter
7 x Brochures
3 x Corporate Identity Packs (Each containing Business Card template Front/Back, Envelope and Letterhead designs)
Flyers – 3 Styles Front and Back, in 3 different sizes

Coupons For

CommitCRM – Client Management System
mHelpDesk – Client Management System
Screen Connect – Remote Support Software
Podnutz Laptop Repair Videos – Training Videos
Podnutz Tech Site Builder – Website Templates
Instant Housecall – Remote Support Software
Fabs Autobackup 4 Tech – System Backup & Reload Software
SUPERAntiSpyware – Antimalware Software

Computer Parts Suppliers

United States of America – Retail and Trade Only Suppliers
United Kingdom – Retail Trade Only Suppliers
Canada – Retail and Trade Only Suppliers
Australia – Retail and Trade Only Suppliers

In the Office

Storefront Check-in Sheet
Computer Drop Off Form
Asset Tag
Laptop Assembly Sheet
Game Console Repair
New Computer Invoice
Invoice
Terms of Sale
Quotation
Employee Time Sheet
Computer Repair Work Log
Payment Overdue Letter
Customer Satisfaction Survey

Maintenance Work

Maintenance Contract
Maintenance Contract Sales Letter
Computer Maintenance Log
Problem Report

Web Development

Project Completion Signoff
Web Development Approval
Web Development Contract
Web Hosting Subscription

Computer Recyclers

United States of America
United Kingdom
Canada
Australia
Product Pictures
Easy To Edit

The documents are in .DOC and .XLS format (MS Office or Open Office) and the marketing templates are in .SVG format (Inkscape or Photoshop)

Legal

The legal terms in these forms have been drafted by Lawyers in the United States, United Kingdom, Canada and Australia. Simply choose the country you are operating in when ordering and your download will have the legal terms appropriate to your country.

Instantly Downloadable

The Computer Business Kit is a digital product so you can get it anywhere, anytime. As soon as your transaction clears through our payment processor (usually mere seconds) the product will be available for download.

Testimonials

Here are some quotes from your fellow Technicians about what they think about the Computer Business Kit:

I am fairly new to the business side of things and this kit has saved me a lot of money on having these forms drawn up by a lawyer my self and would recommend anybody in need of computer repair forms of various types to not think twice about getting this kit, just do it you won't be disappointed. – Slater's Kustum Machines

Wow, fantastic update, very impressive. This just saved me about 40 hours of work, well worth the price. – PC Pro Technologies

Great work, Bryce, I'm buying the kit just for the SVG artwork! Will probably also borrow a section or two of the legalese, some clients have the hots for legal talk :-)" – Wim Wauters, Unisoft Design

What can I say… You've seriously outdone yourself on this update… and offering a free upgrade and looking up the information in the case we didn't have our paypal details is above and beyond most services I have ever received.. Thank you so much for such a excellent product. – Shawn Dion

Just going through the new version now. Extremely impressed with what I've looked at so far. Nice work Bryce – Steve, SJH Computing

Bryce, I've used this kit since I started in 2009. These updates are fantastic, and the fact that you allowed me to get the updates at no charge is incredible. Thank you for this site and all you do for technicians! – Chris Moroz, Your|I.T.

Just downloaded the update. This is an amazing collection. You really hit the nail on the head with this one. The suppliers section is a great collection. The coupons are very valuable. The new docs are great. Thanks so much!! – Matthew Herch, Less Stress Solutions
Money-back Guarantee

We're so confident that you will be happy with the Computer Business Kit that we're happy, as always, for you to try it risk-free for 30 days. If you purchase the Computer Business Kit and you think it falls short of being everything you wanted, we'd like you to have your money back.
Simply contact us and we'll see to it that you receive a prompt refund of the full purchase price.

If you only get one Maintenance Contract signed then you would have already recouped your investment. At $79, it's another problem solved allowing you to get back to building your computer business.