Computer Business Forms, Marketing Materials & Information for Computer Business Owners
Get Started, protect yourself, look professional and save a ton of time with the Computer Business Kit
Organize and Systemize your business with our computer business forms. Print them out on paper or fill and sign them as a PDF on a tablet
Gain new clients with beautiful marketing templates
Find new suppliers and pay less for Computer Parts
Save money on other Computer Technician products with exclusive Business Kit owner discounts
---
Protect Yourself & Your Business
​Lots of things can go wrong in the Computer Repair Business. The Business Kit contains 30+ easy to edit computer repair forms designed for printing to help protect you and your business. Simply add your businesses logo and information and you are good to go. We use <Business Name> tags so you can easily do a "Search and Replace" to mass add your business name into the forms.

Each form contains lawyer reviewed terms and conditions appropriate for your country.
---
Fillable PDF Versions of Our Forms
Prefer to work off a tablet? You can do that too. Simply pre-enter your businesses details into the forms and load them onto your tablet using your favourite PDF filling & signing application (We recommend a few in the Kit).​

Depending on the capabilities of the PDF app, you can email this to yourself as a read-only PDF or sync it to your Dropbox.
---
Get More Clients For Your PC Business
Save time and get more clients by using our marketing templates that come in a variety of colors. You can edit a simple Word document, a JPG or get advanced editing PSD files with a graphics-editing program.

Need pictures? We also provide a bunch of royalty-free computer business related stock photos that you can use in your advertising.

We'll even show you how to edit the files with our training videos included in the Kit.​
---
Stop Paying Consumer prices for Computer Parts
​Stop paying Consumer prices for Computer Parts and find real, business-to-business computer parts suppliers near you with our suppliers list. We have suppliers for the following countries:
United States of America
United Kingdom
Canada
Australia
---
Massive Discounts on Computer Tech Products
The Computer Business Kit pays for itself with the amount of money you save on other computer technician's products. Some of the savings available in the Business Kit exceed the cost of the Kit itself!​
D7II​
PC Repair Tracker (PCRT)
Fabs Autobackup 5
RepairShopr
Screenconnect​
Instant Housecall
CommitCRM
and more..
---
What You Get
During and After Work
​Work Order
Engagement Form - Home Users
Engagement Form - Business Users
Backup Checklist
Reformat Checklist
Wireless & Internet Settings
Computer Pickup
Tune-Up Checklist
Windows XP End of Life
Marketing
New Brochures - Three new designs with different color variations. Available in PSD and MS Word formats. Print Friendly versions available. Also included: Classic Design in 3 Color Variations.
Price List - New Design in PSD and MS Word format. Also included: Classic Design in SVG Format.
3 x Corporate Identity Packs (Each containing Business Card template Front/Back, Envelope and Letterhead designs)
17 Royalty-Free Stock Photos
Maintenance Work
​Maintenance Contract
Maintenance Contract Sales Letter
Computer Maintenance Log
Problem Report
Computer Tech Discounts
​D7II
PC Repair Tracker (PCRT)
Fabs Autobackup 5
Repair Shopr
Screenconnect
Instant Housecall
Commit CRM
MHelpDesk
TechSiteBuilder
EzPSA
TechUSB
BeAnywhere
In The Office
Storefront Check-in Sheet
Computer Drop Off Form
Asset Tag
Laptop Assembly Sheet
Game Console Repair
New Computer Invoice
Invoice
Terms of Sale
Quotation
Employee Timesheet
Computer Repair Work Log
Payment Overdue Letter
Customer Satisfaction Survey​
Marketing Analysis
Mobile Phone/Tablet Repair
Web Development
​Project Completion Signoff
Web Development Approval
Web Development Contract
Web Hosting Subscription
Computer Recyclers
​United States of America
United Kingdom
Canada
Australia
Computer Parts Suppliers
​United States of America – Retail & Trade Only
United Kingdom – Retail & Trade Only
Canada – Retail & Trade Only
Australia – Retail & Trade Only

Only $99. Get Immediate access to your digital copy of the Computer Business Kit
​
---
​Product Pictures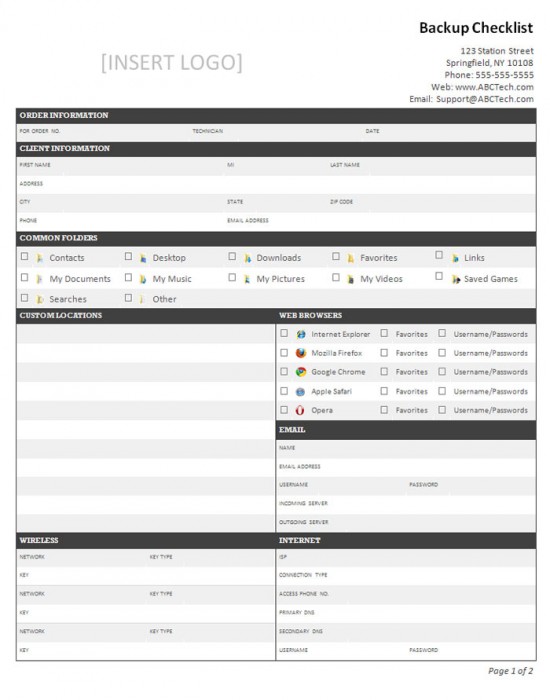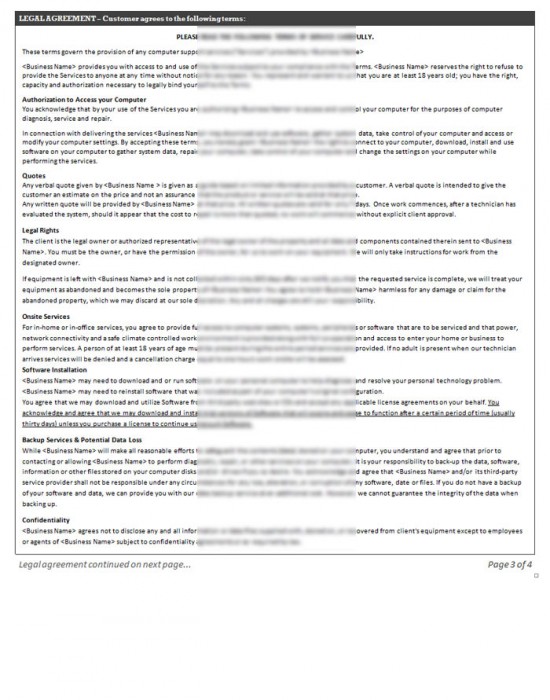 ---
How Much Money You Will Save on Technician Products
| | | | | | |
| --- | --- | --- | --- | --- | --- |
| Product | Version | Discount Offer | Full Price | Discounted Price | Saving |
| D7II | 1 to 5 Tech License | 35% OFF yr | $299 yr | $195 yr | $104 yr |
| D7II | Single Tech License | 35% OFF yr | $179 yr | $116.35 yr | $62.65 yr |
| PC Repair Tracker | Standard | $25 OFF | $200 | $175 | $25 |
| Fabs Autobackup 5 | Pro | 35% OFF | 45 EUR | 29.25 EUR | €15.74 $21.17 US |
| RepairShopr | All - Eg. "One Man Army" | Free First Month | $599.88 yr | $549.89 | $49.99 |
| mHelpDesk | All - Eg. 1 User | 25% OFF yr | $300 yr | $225 yr | $75 yr |
| CommitCRM | 1 Active Employee License | $50 OFF | $249 | $199 | $50 |
| Tech Site Builder | Standard | 20% OFF | $149 | $119.20 | $29.80 |
| Tech Site Builder | Professional | 20% OFF | $199 | $159.20 | $39.80 |
| Call That Girl | Remote Support Guide + Book Set | $15 OFF | $39 | $24 | $15 |
| Screenconnect | Single License | 15% OFF | $325 | $276.25 | $48.75 |
| Instant Housecall | Express Edition | $100 OFF yr | $499 yr | $399 yr | $100 yr |
| Instant Housecall | Professional Edition | $200 OFF yr | $907 yr | $707 yr | $200 yr |
| RepairTech TechSuite | Standard | 20% OFF For 1st Year | $300 yr | $240 yr 1st yr | $60 |
| BeAnywhere | All - Eg. "Business" | 35% OFF Yr, 25% OFF Mo | $799 yr | $519.30 yr | $279.65 |
With the savings you get with some of these products, its almost like getting the Computer Business Kit for free. With some products like D7II, this is an exclusive discount and there is currently no other location offering a discount this deep. Additionally, this discount of 35% OFF is per YEAR, not just a once off.

If you purchased the D7II 5 Tech license and used it for 5 years, you would have saved a whopping $735.

The Instant Housecall discount is also per year so if you were with Instant Housecall for 5 years on the Professional plan, you would have saved $1000!

If you had your eye on any of these higher ticket items and you bought the Computer Business Kit v3 first, you would be ahead instantly; and it would only take a few of the lower priced items to have totally made your money back. Its a no-brainer.

---
Ken Donagan Donagan Digital
"Starting out with my new computer business venture, there is a ton of little things that I have to worry about that has nothing to do with actually repairing computers and growing my client base. Trying to maintain some sort of organization, how to approach marketing literature, and avoiding potential legal pitfalls all land in that category. The product you have provided us has neatly handled those problems."
"I'm so glad I bought the Technibble Business kit. Having some forms pre-printed before arriving to a client's place builds instant trust. Its differentiates us from our competition since we look more professional. We have been using those forms since 2012, and I never regretted my investment. We even got those translated to French since 60% of our clients speak French here in our province."

Alexandre Tetrault Les Technologies Easy
Chris FreemanAdviceIT
"First comments on opening the index file WOW. Nicely laid out and all the access there for all your needs including a fantastic new easy to find menu structure.

The fillable PDF documents are fantastic and enables you to quickly fill out information live without having to print and fill out a document at a client's site. This will save so much time moving forward. Great range of documents for every requirement! Overall a fantastic effort that is a necessity for any IT business! Great work and definitely a must buy!"
"It has helped me out a lot by not having to design and make these. The fill in pdf's are awesome! I have them on my iPad and its working out great. Next up is to utilize the discounts. Thank you."
Frank Gatto P3 TekSolutions
Vassiliy DmitrievBoca Computer Repair
"First off thanks for your great products. I used Business kit v1 while i was transitioning from day job into full time home onsite jobs/residential. Business kit v2 I used to run full time onsite repair without being a contractor and include business clients. And now, several years later, I opened my own retail computer services shop. And you guys came out with this awesome Kit v3 ! Just got it!"
---
100% MONEY BACK GUARANTEE
---
We are so confident that you will enjoy the product that we are happy for you to try it risk-free for 30 days. If it falls short of being everything you wanted, we'd like you to have your money back. Simply contact us and we'll make sure you receive a prompt refund of the full purchase price. You can even keep the bonus products.
Only $99 Includes the Computer Business Kit + "How to Start a Computer Business" eGuide Bonus