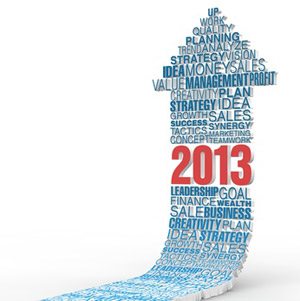 It's 2013, a new year has landed. Happy New Year Technibblers! We didn't get wiped out in some Mayan prophesied apocalypse. We're safe, at least until the next ancient civilization inspires another nutty induced hoax for the year 2020 or something. We'll still get to enjoy time with friends and family, we'll hopefully see some inspired iProducts from our favorite soft fruit company and we'll hopefully see Microsoft finally catch up with the competition and release better products. But aside from all that, 2013 is yet another year we can concentrate on creating and/or growing our businesses, lets help see the new year in and get ourselves and our businesses a little cleaned up.

Set Your Goals for 2013
We should all be used to setting ourselves goals and targets, this was especially the case when we drew up our business plans way back at the beginning. When a new year comes around we're busy setting ourselves personal goals in the way of new years resolutions, I'll be trying to drink less caffeine and I'll try to visit the gym, I'll probably fail. Despite my lack of enthusiasm for the treadmill the new year puts me in a good mind-set for setting some fresh business goals or approach those old goals with a fresh outlook. For me I'm often a lot more interested in achieving business targets, and besides, I really need my coffee.
Review the Competition
We all sometimes take our eye off the ball when it comes to new businesses and competition sprouting up in the immediate area. We can use the new year to review what we're up against and help to get ourselves prepared. You may find something significant to cause change to your goals that you've set for your business in 2013 so make any necessary adjustments before moving forward. Make sure you schedule some time to do this quarterly through 2013 and get yourself back in the loop.
Get Your Accounts Done
The first two weeks of January can often be the busiest days of my year, on top of that my accounts need to be submitted by the end of the month. For these reasons I find that getting the accounts up to date should be a key goal right at the start. Getting it out of your way regardless of your submission dates will keep it off your mind and will clear the path helping you achieve those important goals and targets you've already set yourself. Even if you're in the habit of having someone else do it, be sure to pass on everything they'll need as soon as possible and then keep on top of it at least every month.
Refresh Your Primary PC/Laptop
This is a nice obvious one. If you're not yet ready to replace your work horse then you should at least give it some time and attention to keep it in tip top shape. It's common for busy techs to forgo even the most basic maintenance tasks on their own PC on the basis that they're so busy with their customers. When you've been doing this type of work all day, the last thing we often want to do is come home and do check ups or reformat your PC. Set some time aside and get everything sorted out. Ensure your disks are optimized, your software updated and that you have everything you need moving forward, enough RAM? Enough disk space? The office/home network is in tip top shape? Now's the time to check. And if you have Windows 8 then things are little easier with the nifty PC Refresh options.
Clean Up Your Workshop
Whilst I try very hard to keep on top of my workshop space I can't deny that it always ends up looking quite horrific, disorganized, a tangled mess. Computers in various parts strewn across the desks, not only is it impossible to find a thing it can be a dangerous thing to let get out of hand. The last thing I'll need is an electrical fault causing a fire or my clients computers getting mixed parts. Clean up, stock up and look at ways of improving your storage. The result will be a safer more efficient way of working and mentally improve your mood when going back to work after the holidays.
Review Outstanding Support Calls, Help Requests and Email
In order to clear your mind moving forward into the new year, it's good practice to complete and clear out any outstanding, voice-mails, emails and any requests for assistance.
• Get those requests for help scheduled in
• Check and clear your voice-mail
• Check all in-boxes, action or file your email
• Set reminder actions for anything you need to follow up in the future
• Make sure all personal and business appointments are in your calendar to avoid double booking
These simple steps will help to clear your mind ready for the new year ahead, you should then schedule a little time weekly to do this moving forward to keep yourself organised, you'll thank yourself.
Start Approaching Businesses
If you're still holding back from approaching businesses then let 2013 be the year to finally make it happen. Being primarily residential based is no bad thing but getting other businesses on board will open up new opportunities for you and might be the catalyst needed to make your business self sustaining in 2013. Bottom line, what have you really got to lose? Wouldn't that be an achievement in 2013 to shout about. Take a look at Get Business Clients in 30 Easy Steps if you're looking to get kick-started or need inspiration and guidance. Regardless of whether you're reading the eBook or utilizing your own methods I'm really keen to hear your success stories, drop me an email ricchapman at technibble dot com if you have time to share.
Make 2013 the year for your business, get the basics done now, clear your mind, set your goals and start achieving them as soon as possible. Share your new year business preparations in the comments below, a few tips shared with your fellow readers and we'll probably be the most organised technicians out there. Happy New Year to all of you and I wish you all the success in 2013.