In this article I will be reviewing the "Computer Repair Tech Website Builder" package made by Podnutz.com.
The package contains 20 high resolution videos show you how to customize, get a professional looking website online within a couple of hours and includes all of the files and software you need in order to do it. This is my review:

Steve starts with a basic introduction letting you know what you can expect in the package. He then provides you with an overview of the layout of the files and folders included in the package.
In this package there is one layout with 6 different color variants: Blue, Green, Grey, Orange, Red and Yellow. There are also the supporting files for each variant including the "master" version of the graphics in SVG format. Basically, what this means is that it is very easy to edit the graphics and since they are saved in a vector format (SVG) they can be resized to any size you want without becoming pixelated.
Here is a screenshot of the Blue version: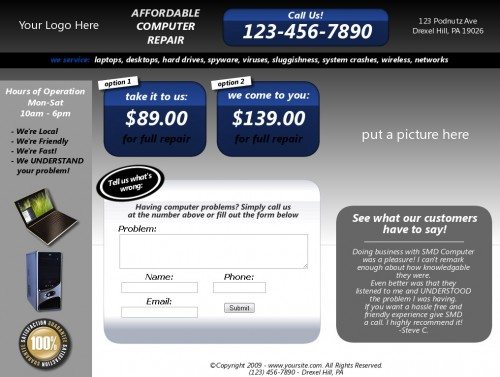 Once you have settled on the color scheme that you like the most, Steve shows you how to edit the graphics using a great piece of open-source software. About 10 of the videos are dedicated to editing the various graphics on the website but it's not just about using the software, he also talks about the design and business choices on why the website has been setup this way.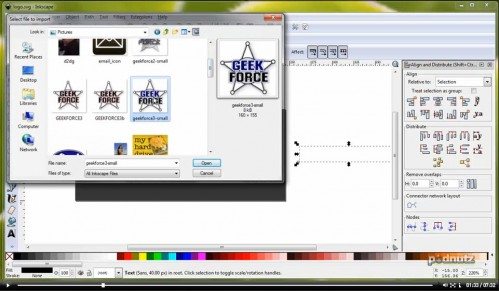 For example, in the video where he is showing you how to edit the prices on the website, he mentions that showing your prices front and centre is more attractive to a customer who is just passing by. They don't need to contact you to ask for the prices, they don't need to go deeper into your website to find them, it is right in their face. Steve understands the web design rule that if a user cannot find what they want in about in 7 seconds, they will leave – and has designed the site accordingly.
Once Steve finishes covering the graphics part of the package, he moves onto editing the HTML code using another great piece of open-source software. However, you don't need to get into the nitty gritty of it all since that is already done for you. Instead he shows you how to change the title, keyword and description tags to suit your business.
Once the website has been customized to your liking, Steve suggests a good hosting company to go with and shows you how to get your website online.
Of course, there is no point putting up a website unless you get traffic to it and getting traffic can take time. This is why paying for Google Adwords is a good option since it puts you up the top of the searches for a price. Steve dedicates 5 videos to creating an Adwords account, setting it up, maintaining it, pausing it and making changes to it. Steve even provides a keyword list that you can start with.
Alright, let's look at the pros and cons:
Pros
Really simple and straight forward. Someone with no web development skills would be able to use this.
Covers the business side of things every now and then such as why you should put your prices on the front page and the cost of gaining clients via Adwords.
Allows you to start getting clients pretty much straight away thanks to the Adwords guides
Cross browser compatible, meaning that the webpage looks the same in all the top browsers.
Cons
If you are good at creating professional looking webpage's, then this may be too simple for you
The web developer in me would have liked to see a table-less CSS layout and a little less graphics. I asked Steve about this and he said he wanted to keep it as simple as possible so it's easier for his customers to follow.
Conclusion
In conclusion, if you know your stuff with web pages you might want to give it a miss because it may be too basic for you. However, if you need help with setting up a professional looking computer business website then this package is for you. Steve has really gone a lot of trouble to guide you through the whole process.
The price for this package for anyone else is $97 USD. However, I managed to get Technibble readers a 15% off discount which brings it down to $82.45 if you use this discount link.
You only need to get one or two jobs through your website for this to pay for itself. Check it out.