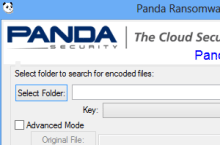 Panda Ransomware Decrypt Tool is a small, and freeware software that allows you to restore files that were renamed or encrypted on your client's computer due to a virus infection.
Here's the scenario; you have already removed a virus from your client's computer, but some of the files that were affected can no longer be opened or accessed. Panda Ransomware Decrypt Tool allows you to restore and decrypt these files so they can be used.

Read full article...