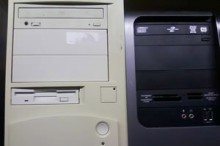 Guest Post by Micah Lahren:
The old computer just won't perform anymore, and your client needs a new machine. Thankfully, they followed your advice about backing up all their data, in case it failed completely, but they steadfastly refused to get a new machine for years. Now they want all their old programs, pictures, documents, music, and other data to be available and functional on a new machine.
Hopefully they haven't gone out on their own and purchased one already, as many new machines are equipped with 64 bit operating systems, and those old 32 bit programs may not function at all, even with the so-called 'compatibility mode' of Windows operating systems. Even between operating system versions, you will find many programs that simply will not function on a different version than the OS that was intended for them.
Before rushing them into a new computer, find out what they need, and you'll be in a better position to ensure they won't regret moving from that old dinosaur to something new. Just grabbing any migration software and setting it to work could be a big mistake. There are many factors to take into consideration such as 32 bit/64 bit, program compatibility, hardware compatibility, and more. I'd recommend following some basic steps to ensure the best results, and client satisfaction, to say nothing of headache prevention for you, the Tech.

Read full article...