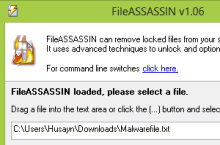 FileASSASSIN by Malwarebytes is a small, portable and freeware application that can quickly and easily eradicate any type of locked files from your client's computer.
When trying to remove a virus or other locked file from your client's computer, it can be difficult, and error messages appear frequently. FileASSASSIN can help you precisely and easily remove these files, even those that display cryptic error messages when removing them normally.
Read full article...