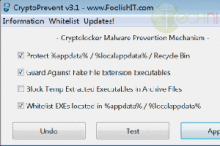 Computer Technicians and System admins across the internet are hearing more and more about the Cryptolocker threat. If you havent heard about it, Cryptolocker is a nasty piece of ransomware that will seek out certain files on computers, attached drives and networks and encrypt them. Once it has finished encrypting the files, it will show a popup that tells the user that their files are encrypted and they have to pay a ransom to decrypt them before the 96 hour countdown completes. If the user doesnt pay the ransom during the countdown, the private key used to encrypt the files is destroyed and the users files become unrecoverable.
Nick from FoolishIT (creator of the popular tool "D7″) took the "How to prevent Cryptolocker steps" from BleepingComputers guide and turned them into a handy executable.

Read full article...