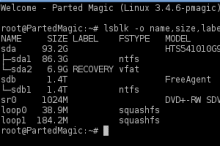 This guide was written by one of our forum members SilverLeaf and was originally written as a forum post. This guide is intended for people who are looking to do quality data recovery using free tools. This guide is fairly technical requiring you to deal with the Linux command line. Some paid software is more straight forward than the steps here, but this is a great way to get the job done for free. Use at you own risk. Technibble and SilverLeaf take no responsibility for the loss of any data, business, reputation etc..
It seems that a guide for using ddrescue might be of some benefit to many members who may be shy of the linux terminal. So, I've decided to document some real-world examples from in the shop. I plan on doing this in 3 parts to cover the most common scenarios.
Part 1: Creating an image from a failing disk
Part 2: Restoring an image to a new disk & cloning directly to a new disk
Part 3: Working with the image files
In will be using Parted Magic as a platform for this guide. I usually PXE boot (or boot from a live CD) the machine that I am working on to Parted Magic for this purpose. If you run linux on your test bench machine and prefer to attach the failing drives to it, this guide will give you the basics, but obviously the screenshots will be different.

Read full article...