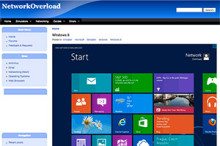 If you have ever done phone support, you know how hard it can sometimes be to visualize the steps your client needs to take in order to solve their problem. What would really help is if you had that operating system or application in front of you.
This is where Chasms.com and NetworkOverload.com comes in.
These two sites are basic emulators that allow you to go to the common areas of the operating system and various applications. Both sites contain most of the major computer operating systems as well as common antivirus and email applications.
Chasms.com has more operating systems and applications than NetworkOverload.com. It includes Ubuntu, Tablets, Router Webmins, Phones and Gaming consoles which NetworkOverload doesn't cover. While Chasms has a terrible website design, the meat is still there.
NetworkOverload.com seems to go a little deeper into the operating systems and applications allowing you to access more menus than Chasms, but there are less overall operating systems and applications.
While doing phone support this way is not as robust as having a full blown virtual machine, its a great in-between, especially for operating systems and software that you don't actually own.
Read full article...