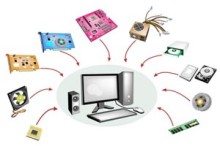 Article by Tony Scarpelli of CFI Computer Repair:
Have you ever considered building custom computers? You've probably asked yourself "Can I do it profitably?", "Which components should I use?", "Where might I source these components at the best prices?", "What warranty must I offer and how do I handle that?" and of course "Is it worth my time?" This article is targeted for those technicians who are fairly adept at resolving PC hardware issues and who might wish to consider building custom workstations for their own use or their clients. This article will answer these questions and more.
Read full article...