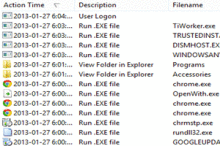 LastActivityView is a small, portable and freeware application designed to instantly collect system information and create a log that is easy to understand and records many of the actions performed by the user on the computer.
As a technician, your job is hard enough from diagnosing and solving complex computer issues to virus and spyware removal, and being accused of creating complications with a client's computer is something you really don't want to hear on a Monday before having your morning coffee. You can make your job a little easier by using LastActivityView to quickly generate a report showing the last actions that the user did and that the client was the one who downloaded the virus and not you.

Read full article...