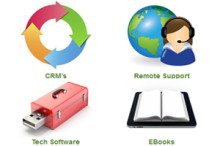 A question I am often asked by Technibble readers is what computer technician product or service should they choose for their business (or to solve a specific problem).
What CRM should they choose? What remote support software should they choose? Our forums also have these questions asked often. The problem is there are a huge amount of choices which can leave people overwhelmed.
I usually recommend a handful of products or services that are popular amongst the Technibble readers and forum members. Instead of just responding to these privately via email or social media, I thought why not post these publicly and help everyone?
So I thought how could I make this really useful? I asked the forum members:
"What are the most important considerations for you when buying a CRM/Remote Support software?"
The forum members responded by saying things like price, integration with other programs, whether it was cloud or self-hosted and upgrade policies were important to them. So I contacted some reader favorites who supplied me with a logo and a little blurb of information about them. I asked them about their prices, what they integrate with, their upgrade polices and a few other questions depending on what type of product or service it was. I then added that information to a "Rolodex style" post and this was the birth of the Technibble Vendors List!
The goal here is to allow you to get the information quickly and straight to the point which makes it easy to compare products and services.
The Technibble Vendor list is by no means complete, and I am open to suggestions on who else you think should be listed there. Of course, they would need to be super-targeted to us computer technicians/business owners. You can suggest other products and services via this link.
So, check out our new Vendors list (link also in our top navigation), you might find something you haven't seen before. And keep it in mind next time you encounter a problem that could potentially be solved by a product or service.
Check out the Technibble Vendors List Here
Read full article...