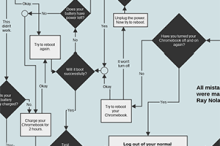 If you have ever had a Chromebook land on your workbench, you will see that they are fairly different to PC and Mac laptops. While they look similar, their operating system is a very stripped down Linux build focused around Google Cloud services. The majority of it is based around the Google Chrome browser and they work more like a thin client than a regular laptop. This makes doing troubleshooting work on them a little different.
Someone named Ray Nolan has recently created a basic troubleshooting flow chart for Chromebooks that some readers may find handy. Keep in mind, this contains some very basic troubleshooting steps that any computer technician should know, but does show you some ChromeOS specific steps and some good links to find more advanced information.
Read full article...