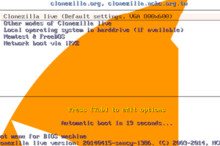 Contribution by Paul Apking
Creating hard drive copies or clones is a regular routine for many techs. But it shouldn't be hard on the wallet! Many are expensive such as Norton Ghost, others are cheaper such as Macrium Reflect.
Enter Clonezilla, it's free!
Clonezilla is a linux-based imaging tool that makes an exact copy of your entire hard drive or partition as a back up which can used at a later time for a single restore. It can also be used for a massive restore on 30+ machines but this article will discuss using it for single machine backup/restore.
Read full article...