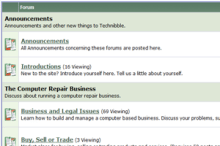 There are many Technibble readers that dont know about our Technibble forums (especially the email subscribers that dont visit the actual site often).
Let me say that if you aren't on the forums, you are truly only getting half of the Technibble experience. There is such a huge wealth of knowledge available on the forums.
For example, here are two great threads from the last couple of days:
You should also check out our "Guides, Tips and Tricks" forum as well as our "Deals" forum. Right now it has a deal for a 256GB PNY USB 3.0 Thumb Drive for $69.99 from Tigerdirect after mail-in rebate.
All of the content is generated by technicians like yourself and there are many gold nuggets of information to be found.
While you can lurk, its a far better experience if you sign up and introduce yourself. There are a few areas of the forums that are only visible to signed up members.
One requirement of the forums though is that you are either a soon-to-be-technician, currently working as a computer technician or have/starting a computer repair business. We do not accept end-users just looking for free tech support. We also require members to post a GOOD introduction (not just minimal answers), it keeps the community tight-nit and friendly.
Its free and easy to join us, you can register for the forums via THIS LINK. Keep in mind you must post an introduction about yourself for all of the forums to become visible.
Visit the Technibble Forums Here
Read full article...