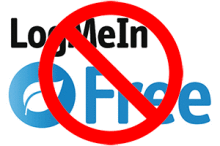 We typically don't cover news here at Technibble but I feel that this one will affect a lot of Computer Technicians.
The remote support software "LogMeIn" has just announced that they will be discontinuing their free offering. Users will have just seven days from their next login to decide whether to move on to another solution or become a paying customer.
This change also affects LogMeIn Ignition users (A paid app for iOS and Android) as users will no longer be able to use the app on the free versions. LogMeIn has offered discounts for the paid version as a "peace offering" for LogMeIn Ignition users. Other LogMeIn offerings such as Cubby and Join.me are unaffected.
LogMeIn posted a FAQ on why they have changed their plans but the main point was "In order to address the evolving needs of our customers, we will be unifying our portfolio of free and premium remote access products into a paid-only offering."

If you are just babysitting friends and family computers, Teamviewer is a good free alternative for non-commercial situations. If you were using LogMeIn Free on client computers, then Instant Housecall (cloud) and ScreenConnect (self-hosted) are great paid alternatives that are heavily used by Technibble forum members.
Read full article...