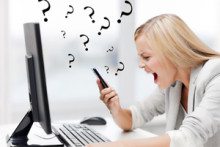 If you've spent any time at all in a service industry, you'll probably have a lot of stories about bad customers, unpaid invoices, and individuals who think they don't have to pay invoices unless they're threatened with legal action to pay them. I know I've run into a few myself, unfortunately.
When it comes to unpaid invoices in the Tech Industry, there's a few things you can consider when it comes to what you might call deadbeat customers, and there are actually a few things you can do as far as avoiding them altogether now that the internet has become a huge database of complaints from customers and businesses alike. What can you do to deal with them?
Read full article...