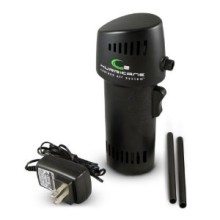 When CanlessAir.com offered to send me a sample of their flagship product, the Hurricane Canless Air System, I couldn't resist the offer. Like most other technicians out there, I heavily invested in compressed (canned) air for most technical work up until about two years ago. I still keep canned air around for when my beloved air compressor just won't fit the bill (like going into downtown Chicago on the train) and it's still expensive as it ever was.
The premise of the Hurricane Canless Air unit is pretty simple: ditch the canned air that you have to re-purchase consistently, and invest in a piece of equipment like any other that resides in your tool bag. More specifically, a tool that can be recharged numerous times (over 500 times, they claim – equivalent to 1000 cans of air) and provide consistent operation each and every time. All this in the size of a product that is truly not much larger than a decently sized can of compressed air.

Read full article...