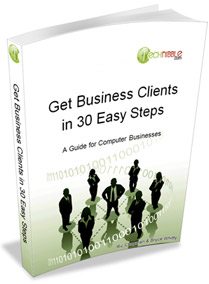 After many months of writing, Ric Chapman and I are happy to announce Technibble's new book:
Get Business Clients in 30 Easy Steps
Computer technicians would often ask us the golden question – "How do I get business clients?". The thing is, its not something we can just answer in a forum post or even a front page article.
We really wanted to do this topic justice and go into the depth it deserved so we turned it into an 87 page guide. We have been working on this guide for several months and we really think its worth it and hope you do too.
This system to obtain business clients has been refined by Ric Chapman over many years of trial and error as he built his own client base. The guide has been broken down into 30 actionable steps and many of them can be done in a day.
So what will you learn in this book?
Here are just some of the topics:
How to gain the confidence to sell yourself and approach businesses face-to-face
How to choose the best businesses to approach
How to master your first sales pitch with business clients
Strategies to help win them over
How to maintain the business relationship
How to get business to come to you
Real world stories from both Ric Chapman and Bryce Whitty
and so much more..
To celebrate the launch of our new book, we are offering a launch price of only $37. An investment that would pay for itself even if you land just one business client. This price includes the PDF version, the Kindle MOBI version, the EPUB version as well many supporting documents such as sales letters to help you obtain those business clients. Check it out HERE.
Read full article...