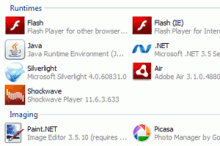 A potent Java security vulnerability appeared earlier this week that allows hackers to run malware on systems that have the Java plugin installed in their web browser. Yesterday, Oracle released an emergency update to plug this security hole and in order to get this update you simply need to update your Java version.
This is a simple task to do on a single computer but a bit more of a problem if you have multiple computers, even hundreds of computers that need updating.
Our friends over at Ninite have offered a special version of their Ninite Pro trial to help technicians get patch this Java vulnerability quickly.
Read full article...