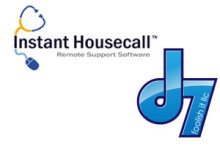 Most of Technibble readers have probably heard about the computer repair software D7. For those of you who havent, we did a large writeup on it in the past. In short, D7 is a "swiss army knife" of computer repair tools and fixes wrapped up in a single application.
Instant Housecall is remote support software with some great features such as accepting payments online, screen recording and the ability to brand the application.
Instant Housecall and D7 have teamed up to create what they call "Remote D7″. Remote D7 is more than just loading D7 through a remote session though, it is a version specifically designed for remote support.

Read full article...