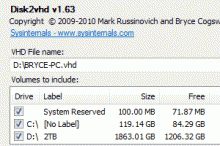 Disk2VHD is a free application that will make a copy of a hard disk from within the OS using Windows' Volume Snapshot capability. This copy can then be mounted in Windows as a 'disk' or run as a Virtual Machine.
Some of the reasons why you would want to do this is to make a backup of the OS, test a repair in the virtual machine copy before you do so in the live environment or move an existing OS installation into a new or different one. For example, backing up a clients install of Windows Vista, doing a clean install of Windows 7 and then allow the client to run their old Windows Vista install in a Virtual Machine.

Read full article...