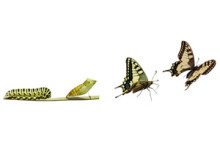 Change … Change is looked upon differently by different people. Generally speaking we have two groups. Those that embrace change and those that loath it. But change is a complicated process, Windows 8 for example wanted to change the face of Windows and fill a potential gap in the market. "Gap filled problem solved, but where in the world is my start button?". Microsoft introduced changes to one of their flag-ship products and all in all, people didn't like it, too much too soon perhaps?
But the basic moral is that you simply cannot please everyone, people are naturally resistant to change and how you manage that change is the most important part. Microsoft managed the change badly, badly communicated and an end product leaving their valuable customers scratching their heads. To turn the knife they then went and released Surface RT, easily the most confusing release of 2012. Since working with businesses I'm often asked to facilitate significant changes that impact running operations, often it's a struggle to help the end users see the benefits of such changes so here's my quick step guide to reduce the backlash.
Read full article...