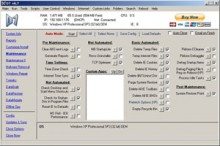 We all have our little USB toolkits, our 'ultimate' CD's, our repair disks and other related repair tools. Most of us like to have a comprehensive list, a solution for every possible problem we could encounter in the field, to the extent of carrying around drivers for common hardware in the rare case there is no reliable internet connection near the client. The issue with having a comprehensive set of tools often means you have to search through your tools for the one you need, and once you've located it, run it, and then search for the tool you need to use next.
You may have a routine you would like to automate, but instead you sit there at the computer and babysit the mouse, clicking once every 5 to 15 minutes to close something, affirm something, or perform some other menial task. While automation is a partial solution, there is a much better solution that has been available for about a year in the tech sector, about which there have been some recent improved developments. It's been mentioned on Technibble and Podnutz before, but it deserves full coverage.

Read full article...