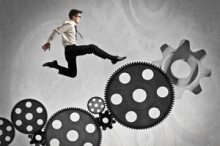 Article by Tony Scarpelli of CFI Computer Repair:
I worked with the Small Business Administration as a consultant and have helped many businesses start and grow. So I will share some techniques that I have found to be helpful to me and others.
If you are truly a one man show with no wife or girlfriend to handle calls, receive mail and send invoices, then it's a greatly different operation than if you have a receptionist, office manager or girl in on a Friday. It is even more critical you're setup to be efficient and effective from the get go. You must streamline every process since sooner or later you will be successful and have to work more hours than there are in the day.
Read full article...