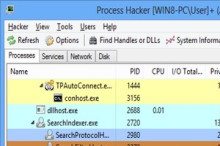 Process Hacker is a small, portable and freeware program that can help you easily monitor system resources, debug software and detect malware, all in one free and simple program.
As a technician, you have probably used Process Explorer in the past, but Process Hacker comes with some small, but noticeable advantages such as the symbolic access masks (read, write, etc.) compared to Process Explorer's number masks (0x12019f). Another advantage of Process Hacker is that it is more customizable than Process Explorer and is open source. More advantages are listed at the developer's website below.
Read full article...