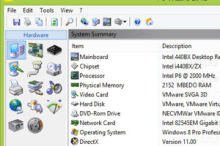 PC-Wizard is a moderately sized, portable and freeware application designed to collect and report the hardware specifications of your client's computer.
When diagnosing a client's computer, a lot of the essential information, such as the processor and the amount of RAM installed is very easy to find, but other information, like the model of the network card and hard drive, among others, can be difficult to pinpoint.
PC-Wizard scans your client's computer and returns a detailed report about the hardware inside the computer, allowing you to make a more accurate diagnosis.

Read full article...