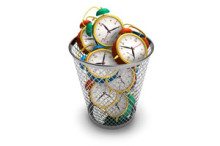 As an owner of a Computer Repair Business I soon discovered that time wasters can come in many forms. Time wasters are effectively people or things that give a very low amount of benefit or return, in comparison to your time spent. The problem is so pervasive that you'll have already thought of something or someone that drains your precious time away. Usually we think of an individual. There's always a friend, family member, supplier or customer we know we're probably better off avoiding where possible. Few realize that a few or many of things we do throughout our day have the tendency to suck up those precious minutes and possibly hours for very little gain. Today we try to understand and identify some of the changes that you can make to reclaim that time and put it back into areas of your life deserving of your attention.
In the early days of Facebook I could easily obliterate hours of my life everyday digging around my friends and family profiles. Whilst I felt a lot more informed about my own social network it soon becomes clear that knowing what my auntie had cooked for dinner that evening really wasn't one of things I absolutely needed to know. Thankfully Facebook have introduced updates to give a clearer view on what's important to me and glancing it over every evening now takes a mere few seconds. To avoid more time wasting behavior I'll forego the Facebook site completely where possible, choosing to check my wall via my phone or tablet app whilst on the move, most likely when I'm stuck in a queue, such as at the bank. This is one simple example of how I took a time wasting influence in my life and adjusted it slightly to avoid it having such high impact. All things in moderation is a good manta to follow.

Read full article...