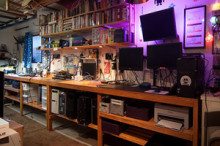 Keeping with what has almost become a Technibble tradition, its time again to take a peek at the Technibble forum members workbenches. Its a great way for technicians to get inspiration for your own setups, see how others are doing it and for the owners to show off a little.
We are now up to Workbenches #4 and if you missed them, you can check out our previous "Peek at Technicians Workbenches" posts here (1, 2, 3).
Here is "A Peek at Other Computer Technicians Workbenches #4″:

Read full article...