Most users of Microsoft's email/contact/calendar software "Outlook" have most likely come across this problem at some point. It can occur when Outlook is closed and then the user tries to open it again from its system tray (near the clock) icon. This icon will remain in the system tray until the computer is rebooted and can cause problems if Outlook is shared because the database remains open while this icon is active.

The user would see something like this: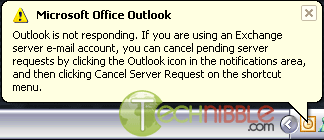 How to fix the "Outlook Not Responding" error:
The First Method:
Press the buttons CTRL, ALT and DELETE all at the same time to bring up the Windows Task Manager
Goto the "Processes" tab and find OUTLOOK.EXE in the list
Select OUTLOOK.EXE (by clicking it once) and press the "End Process" Button
The Second Method:
Goto Start Menu > Programs > Microsoft Office > Office Tools > Application Recovery.
Select Outlook in the dialog and choose End Application.
How to prevent the "Outlook Not Responding":
It can be prevented by closing Outlook properly using the File menu.
In Outlook, goto the menu up the top and choose File > Exit.