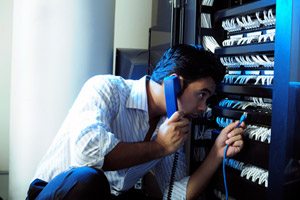 Businesses large and small have a busy IT environment to run they are finding that they do not have enough staff to do the job. Companies have to deal with finding the right talent and making sure they are qualified, but then have to deal with that talent leaving, which is basically knowledge that is walking out the door. The result- a long term loss to the bottom line. This is where third party professionals can make a big difference, by offering solutions to companies that don't want to headache of finding and nurturing IT talent. The benefits go both ways, so a small tech firm will do very well if they can win some managed service contracts. Here is a list of benefits for the customer, so you can recognize and sell the solutions; as well as a list of long-term benefits for your business.

Benefits for your (Potential) Customers
There are many reasons for your potential customers to consider managed services. Here are a few to reflect on:

Financial: When you are dealing with purchasing hardware, software and network components, you already know that you will have to factor in the cost of upgrades, support and repairs. You will also have to deal with the safe backup of company data. The cost of maintaining IT infrastructure for the daily efficient running of an organization runs into the thousands, and for a larger corporation, it can be millions. If you want to be able to control your cash flow and have a predictable IT cost, managed services can help you deal with that.
Knowledge as a Service: This is an interesting part of what managed services can do for a business. If a business needs a System Administrator with knowledge of Windows and Linux Operating systems, you will either have to pay a lot find one or you will need to spend time training the person. You also run the risk of training a good employee and seeing him or her leave for greener pastures when offered a better salary. This knowledge drain can cost money and time. When you let others deal with the knowledge and update, you are left with more time to deal with management and project oversight.

Setup Speed: If a company wants to setup a secure internet connection they don't want to deal with buying your proxy server, firewall hardware and software, they can get an external company to do the setup. They will gain time because the external party will already have the knowledge and it can quickly connect their company in a secure manner to the internet, and also allow a VPN or other encrypted medium to access remote data.
The last example of time critical applications highlights the fact that managed service is a great way to pass on some of a company's daily management to a specialized 3rd party while they reduce the overall cost of IT administration. The problem of connection latency and fear of security breaches still contribute to why some might be wary of managed service. The future will partly be a mixture of both local administration and managed services, but the trend shows that more and more companies are going the managed service route due the benefits listed above.
Benefits for your Business
Steady Income: One of the greatest benefits for your business is that when you have a managed service or maintenance contract, you know that the income will be steady. This is great for cash-flow management, and predictability. It's not much fun going in cycles all the time and working on "one time and done" type of jobs. Managed service contracts will help you become a more solid business, not to mention you will become a cog in your customers' business machine, making your business even more secure.
Stability: This ties in with the first point, but managed service agreements will give your business more stability as you know when your next job will be. Obviously the more contracts you get, the more stable your business will become.
Better Marketability: If you can offer solid managed services and provide reliable services to other businesses, word will spread. It's one thing to win in the residential market, but if you can win in the business market and prove that your services can make business more efficient and profitable, your business will become quite valuable.
Better positioning for Long-Term Growth: T he market is seeing more and more companies using cloud services and third-party vendors to handle the non-core parts of their business. It makes sense that the trend of using third party managed services will continue, making this market wide-open for solution offerings.
Further Reading on Managed Services:
Managed Service Provider University- They offer videos and training for MSP's.
CompTIA's Managed Services Report