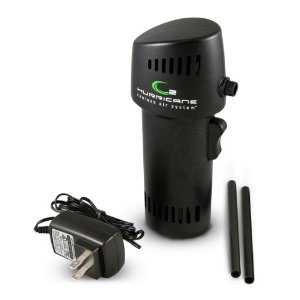 When CanlessAir.com offered to send me a sample of their flagship product, the Hurricane Canless Air System, I couldn't resist the offer. Like most other technicians out there, I heavily invested in compressed (canned) air for most technical work up until about two years ago. I still keep canned air around for when my beloved air compressor just won't fit the bill (like going into downtown Chicago on the train) and it's still expensive as it ever was.
The premise of the Hurricane Canless Air unit is pretty simple: ditch the canned air that you have to re-purchase consistently, and invest in a piece of equipment like any other that resides in your tool bag. More specifically, a tool that can be recharged numerous times (over 500 times, they claim – equivalent to 1000 cans of air) and provide consistent operation each and every time. All this in the size of a product that is truly not much larger than a decently sized can of compressed air.

The version that I was sent happens to be the industrial-strength unit, which supposedly blasts concentrated air at a forceful stream of about 200Mph. A bit lofty of a statement, as I have no way of clocking the stream to check its validity, but the power of the unit is just as good (if not better at times) than your stock can of air from the store.
I wanted to get a few different opinions on the product for this review, so I didn't stop at merely testing it myself. I let one of my FireLogic colleagues give the system a try for a few days, and also lent it to another friend who works in IT for the Chicago Museum of Contemporary Art. Their thoughts are intermingled with my own below.
The unit is very plainly packaged, and includes the Hurricane of your choice (there is a lower priced basic model, which has a 160Mph stream of air), the power adapter for recharging, and a nozzle. The unit weighs slightly more than compressed air, but keep in mind that the unit packs a battery that adds some decent weight to the package. It's well worth it, as the unit averages about 12-15 mins of air flow until it loses power.
You may say that 12-15 mins isn't much, but keep this in mind for comparison: that equates to about the same blowing time given by roughly 15-20 cans of compressed air. Count the money you last spent on a 3-pack of compressed air, and you can see where the contrast in savings stands. This is not to say the product is perfect, however. I'm merely making the claim that in terms of long term value, the Hurricane has canned air beat by a long shot.
It goes without saying that the Hurricane pushes dust like a pro. Just like canned air has a peak of strength beginning with the first minute or two of usage, the Hurricane behaves similarly. The stream of air is definitely strongest when the battery is fresh off charge, but the "usable life per charge" is still longer than what you get out of a single can of air. While I tend to see about 12-15 mins of airflow (confirmed by colleagues), your best airflow happens in about the first 10 mins or so. Still, this equates to a lot of air time.
Some of my colleagues questioned the feasibility of a rechargeable battery within the unit, especially one that cannot be replaced by the end user. This happens to be one of our common gripes: that once the battery is end-of-life, we are pretty much forced to get a replacement unit since the battery takes a queue from Apple and is sealed inside the casing. The unit still presents a considerable cost savings over purchasing compressed air, but this is one area that could be improved in the next revision we're hoping.
Overall, the charging system that the Hurricane presents is well developed. The AC adapter is small and portable, and can be carried in your bag in addition to the unit if you plan on doing a ton of dusting in a single day. One caveat to be mindful of is that you cannot use the unit on AC power alone after the battery has died. Some of my colleagues thought they could use the AC charger as a backup when they ran out of battery life, but this was not the case. A full recharge is about an hour or slightly longer, so there is a waiting game if you run out of juice in the middle of a long day onsite.
While I personally feel the unit has fairly adequate power to clean dust off systems, both of my colleagues felt that the unit could have been more powerful. They have a fear that fine dust in a system does not get cleaned off with the Hurricane and therefore a tech would have to go to other means in order to fully clean a unit. I personally did not experience this issue, but it's a viable concern if indeed the Hurricane doesn't have the extra punch to go all the way.
Another thing to be mindful of is noise. Compared to compressed air, the Hurricane uses a motorized system to force air centrally through the front nozzle, so it's considerably louder than a standard can of air. Again, this is the tradeoff for working with a rechargeable system of this nature, but you need to be mindful of your surroundings when attempting to use this in quieter office settings. If there is no background noise in a given office, the Hurricane will be very audible and may create a stir for workers. But you're the best judge of how your clients are, so just be sure to warn them before turning this puppy on for minutes at a time.
One of my buddies said that he has had a good experience with an alternative product called the DataVac (available from Newegg) which has a comparable price to the Hurricane. However, the product's reviews on the site are a mixed bag at best so it's hard to say which one would fare better in a matchup. My personal opinion is that I will likely supplement my own toolbag with a Hurricane. While I can't say that it will replace my favored air compressor just yet for all jobs, it's certainly a good pick for when I need to visit locations that require public transit access only.
For the weight, price, and packaging, I have to say the Hurricane is a good product, but it doesn't win my top accolades due to some of the minor grievances from our findings above. If you're looking for the cost savings that an air compressor provides, but need the portability that canned air affords, then the Hurricane could be a good pick for you as a mobile onsite technician.
The Hurricane retails at $80 USD for the original version and $110 USD for the industrial (heavy computer repair) version direct from CanlessAir.com. You can find them for a few bucks less at various retailers around the web, however.
If you've personally used the Hurricane yourself, let us know your thoughts in the comments section!
Final rating: 3 out of 5 stars