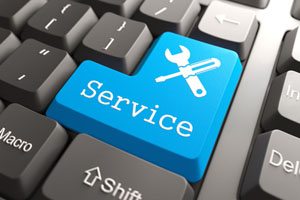 National IT & Warranty companies allow businesses access to a huge range of IT Professionals from all over the country. This means more work for us Computer Technicians, but some National IT & Warranty companies also have a dark side. In this article I would like to talk about dealing with "Nationals" and what to watch out for.

There are generally two types of Nationals. National IT Services allow businesses such as your own to hire Computer Technicians in other states, expanding their reach. The other type are National Warranty providers where a company can send you out to fulfill their warranty obligations. A typical client of a National Warranty provider would be a very large business that has warranty obligations to fulfill such as Staples. Staples primary focuses on office supplies but they also sell computers and peripherals. They don't want to maintain a network of their own technicians across the country so they outsource this work to a National.
Nationals acting as the middle men will then refer work to a technician who is geographically close to the location of the work and take a cut of the profit. The obvious benefit of this to Computer Technicians is that we have work sent our way. It really sounds like it is win-win for all parties and I know some technicians who have had success with them. However, it doesn't always work out that way. The good ones are good and the bad ones can be really bad. Here are some of the reasons that make the bad ones bad:
Lowballin'
A large problem with the National companies is that many of them allow the client to set the rate of the work that needs to be done. The rate is often so low than no legitimate Computer Business would waste their time accepting it. You would believe that the market would sort itself out when no one accepts the lowball jobs and forces the client to pay a higher price. However, this is often not the case as inexperienced and possibly unqualified technicians accept the work.
The client gets work done cheaply and continues to post lowball jobs driving technicians with real overheads out of the Nationals marketplace.
My Monitor Has A Virus
When a client needs some work done, the job gets put the onto the Nationals marketplace for techs to snap up or the National might even directly call a technician who is in the area. The client wants the work done at a price they specify and its up to the technician to either accept or reject the work.
The real danger here is the diagnosis of the initial problem. Have you ever had a client say that their computer has a virus only for you to go onsite and find out that it was a blown power supply? In most cases, the client's initial diagnosis was wrong. When you are working for yourself and are being paid on an hourly basis, this is not a problem. You simply tell the client that the problem seems to be X and is not a virus. You let them know the costs of fixing X, get the go-ahead and fix the problem.
When you work for a National you have agreed to do a certain job at a certain rate, even though that is obviously not the issue. In some cases you can get approval to fix whatever needs to be done, but with some Nationals you are just the grunt who needs to do what they say. In some cases, the person with the failing hardware had to call a support line who diagnosed the issue over the phone and then sent you out with the appropriate parts. The diagnosis might be a little more accurate but it is still possible that they are wrong. The whole back and forth, getting approval and getting parts can get ugly.
Getting Paid
I have heard horror stories where technicians have gone onsite to do a very specific task with parts in hand, find out that the diagnosis was incorrect and are unable to fix the problem. Since the problem wasn't fixed, the client isn't going to pay the National and in turn the National isn't going to pay you, even though you did exactly as they asked.
I have also heard of other payment horror stories where they take months to pay you and make you jump through all sorts of hoops. This is possibly a cash flow issue on their end.
So Should I Avoid National Service Providers?
I don't believe you should avoid National Service Providers entirely. I know of many technicians who have used them to fill slow times in the day. Apparently, If you have a very specific qualification you might be able to avoid the majority of the issues I have pointed out in this article. If you are the only person in a certain area that is qualified to do a certain job, then you can call the shots and set the price you want.
The trick with working for Nationals is to build your business with your own clients and use the Nationals during slower times. If you don't rely on them, you have the power to say "Pay my rate and I am happy to do the work. If not, see ya later".
If you are doing some work with them for the first time, do not accept a large job to begin with and do not accept any more work until they have paid you for your first callout. Many technicians have had problems getting paid by certain Nationals.
If you need some work and want to do a job for a National, always research them first by searching for terms such as:
[name] scam
[name] complaints
Also search for the name of the National (or even just the word "nationals" using the search box in the top right corner of the Technibble site.
I would have listed the names of some of the better known Nationals here in this article but some of the mainstream ones have so many complaints against them that I wouldn't dare mention them. So, I am going to send this question out to the Technibble community.
Which National's have you worked for? Which ones were the best and which ones were the worst? Please leave us a comment in the form below.
As always, you do not need to sign up to leave a comment and you can even do so anonymously. Email/RSS readers will need to visit the site in order to leave comment.