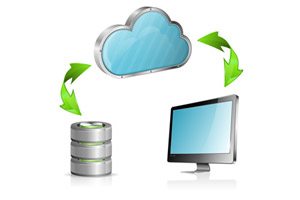 I want to tell you about some software for Windows I found. I actually discovered this while trying to find a good backup solution for my own personal setup, but ended up using it for clients once I knew how powerful it is.



What I was looking to do was:
Have a local in-house copy of the data I want to backup. This would simply be copying the files from my personal desktop to my home server.
Have an offsite "cloud" copy should there be fire of theft. I wanted the files to be encrypted client-side so even the cloud service cannot read it. I love the cloud but don't trust it fully yet. I would also like the Cloud service to be on a pay-per-usage rate rather than a fixed amount per month or year.
Have an offline "separated" copy by burning it to a DVD or Blu-ray in case my network is compromised. If a hacker was to gain access to my network somehow. They could delete the digital copies stored on my personal PC, my home server and even the copies uploaded to cloud. So an offline "detached" copy is needed.
Problems:
Generally when you encrypt client side (using something like Truecrypt for example), you would put all the files in a folder, encrypt the whole folder which results in a single large encrypted file. The problem with this setup is if a single file in that folder changed after uploading it to the cloud, you would need to re-upload the whole encrypted backup again. This would be very time and bandwidth consuming.
Burning data to DVDs and BluRays can be a real pain. You need to separate the files into chunks that will fit onto the optical media, open the burning program, select the files, put a disc in, wait for it to complete, insert a new disc and do this repeatedly.
The Solution:
After much searching and testing, SyncBack Pro was the winner by a long shot.
SyncBack Pro is powerful backup software with almost every feature you can dream of. It really makes other backup software look like a Fisher Price toy. That's not to say that it is difficult to use though. It has a simple mode which can walk you through step by step as well as an advanced mode for us technicians.
SyncBackPro solved all the above problems for me.
To solve the large encryption file problem. I set it to actually encrypt every single file by compressing them as passworded zips. Now, typically old style zip file encryption is fairly weak. This application allows you to encrypt them with 256bit AES encryption.
If a single file in the backup folder changes, it will encrypt just that file and upload it to the cloud rather than having to re-encrypt and re-upload the big backup.
To solve the DVD/Blu-Ray burning problem, SyncBackPro can break the backup into pre-defined chunks (so you could set it to 4.7gig for DVDs or 25-50gig for Blu Rays). It will burn the data to the disc and eject the CD.
(Edit based on comments: Detached copies could also be done with an external hard drive and would be a better choice if you had lots of information. The downside is you are vulnerable if single hard drive failed. I didnt have a massive amount of data to backup and having multiple, incremental, read only "snapshots in time" detached copies not relying on a single hard drive was important to me)
My home server is headless so if I see the CD tray open, I just chuck another disc in and let it do its thing. It is as automated as it can be without having a auto CD reloader.
The thing is, I am only using a tiny percentage of what this application is capable of. Here is just a small list of some of the features.
Copy locked or open files
Processes an unlimited number of files
Fast Backup and Smart Synchronization
Versioning (keep previous backup versions)
Incremental Backups
Amazon S3 and Google Storage support
Microsoft Azure support
Backup of emails stored on a POP3/IMAP4 server
Notification about profiles runs, creation, etc.
New script functions, calls, and example scripts
Powerful FTP engine & AES encryption
Automatic scheduling
Generous Licensing Policy
Extensive Help Documentation
Here is a screenshot of SyncBackPro in expert mode with its option tree expanded. Each page has a wealth of features so you really can make it do exactly what you want.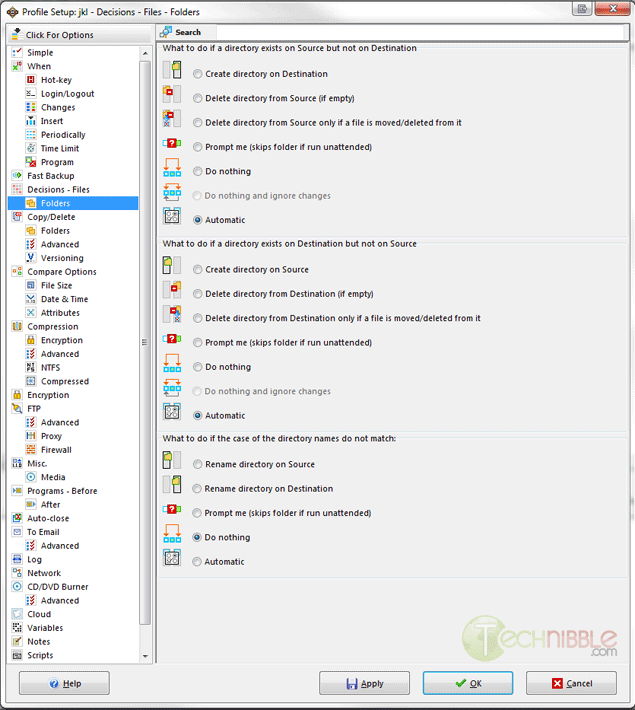 Incredibly, you can even make it speak a custom string of text if something like a backup error occurs. This really has all the fittings.
SyncBackPro comes with a 30 day trial so there really is no risk and it sells for $54.95 USD. It has very quickly turned into one of my best business purchases in recent months.
Basically, If your current solution doesn't do exactly what you want, definitely check out SyncBackPro. Here is a direct download link for the trial if you would like to try it out yourself.